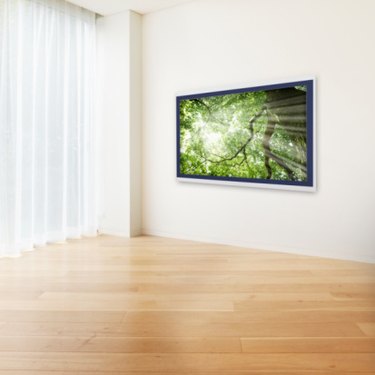 An LCD screen can be a real boon for your television and DVD watching, offering a sharp image and great colors. But LCDs can suffer from a problem known as flashlighting, which can be patches of "cloud" that can appear in the corner of the screen or in rarer cases, all over it. It can be extremely noticeable in dark scenes and become distracting.
Step 1
Check to see if your LCD television is still under warranty; if it is, phone or email the store or the maker you bought if from and ask to have an engineer sent out to check the flashlighting issue. If it is determined that it is bad enough to distract you from your viewing pleasure, it should be replaced or repaired. This is obviously a difficult issue because it is subjective; if it is not felt that the flashlighting issue you have is distracting enough, it will not be fixed and you could be charged for the engineer's visit.
Step 2
If your warranty has expired, try tapping or massaging the screen in the area that is affected by the flashlighting. Remember to protect the screen by keeping any tapping or massaging as gentle as possible while ensuring your fingers are covered with a cloth to avoid leaving greasy fingerprints on the screen.
Step 3
If the tapping or massaging doesn't work, cover the palm and fingers of your hand with a cloth and then gently but firmly push on the affected area of the screen. Use extreme caution because pushing too hard could either damage or dislodge the television.
Step 4
Locate the top panel screws of your LCD television and using a screwdriver, check how securely tightened they are. You might find that some screws are more tightly screwed to the TV's frame than others. Use the screwdriver to slightly loosen them. This could release the pressure on the LCD's panel and fix the flashlighting problem.