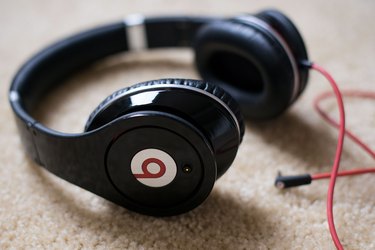 Famed audio cable manufacturer Monster teamed up with hip-hop producer Dr. Dre to develop the Beats by Dre over-ear headphones. Rather than drawing all of their power from the headphone jack to which they're connected, the Beats by Dre headphones use two AAA batteries as a power source. These batteries also power the headphones' noise-cancellation feature, which blocks out background noise when you're listening to music. If the headphones' sound drops out or becomes distorted, or if the power indicator light turns yellow, it's time to replace the batteries in your Beats by Dre headphones.
Step 1
Unplug the Beats by Dre headphones and turn the power switch to "Off." Hold the left-hand earphone with both hands, with the outside of the earphone facing up.
Step 2
Press the exterior of the earphone down gently with both thumbs. Rotate the earphone cover to the left until it opens; lift the cover off of the headphones to reveal the battery compartment.
Step 3
Remove the batteries from the battery compartment. Insert a fresh pair of AAA batteries, aligning the "+" and "-" signs on the batteries with those in the compartment.
Step 4
Place the earphone cover back onto the battery compartment. Align the tabs on the bottom of the cover with the slots on the body of the headphones. Rotate the cover to the right to lock it into place. Plug in the headphone and flip the power switch to the "On" position.