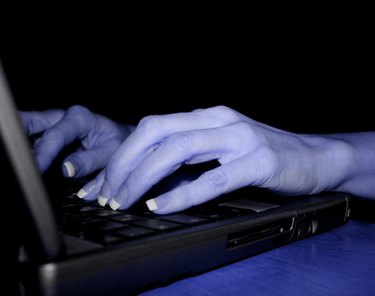 There are three primary types of passwords on Toshiba laptops. When you boot your computer, the first password you may be asked for is your "current password" for BIOS. Once past that screen, you may have to enter your "HDD user password" or "Supervisor" password. Finally, when the Windows screen appears, you may need to enter your Windows log on password, common when more than one person uses the same computer. All of your passwords can be changed---but only if you know the current passwords.
Change BIOS and Supervisor Passwords
Step 1
Boot up or restart your Toshiba laptop. Immediately and repeatedly tap the F2 key on your keyboard until the start up screen appears to change your BIOS (user) and supervisor (HDD user) passwords.
Step 2
Use the arrow keys on your keyboard to highlight "Set User Password" or "Set HDD User Password" and press "Enter" on your keyboard.
Step 3
Type the current password in the box that appears.
Step 4
Type your new password in the next box. You will be asked to enter your new password a second time to confirm it.
Step 5
Use the Toshiba HWSetup program (found in the Windows Control Panel) as an alternate method to set and disable your BIOS password.
Change Windows Logon Password
Step 1
Sign into your Windows account once your desktop has appeared after starting your computer.
Step 2
Click "Start," "Control Panel" and then click on "User Accounts" on Vista and Windows 7 operating systems. In the box that appears, click on "Change Your Password."
Step 3
Enter your current log on password on the top line in the box that opens, then enter your new password.
Step 4
Enter the new password a second time to confirm it and type in a password hint, if you like.
Step 5
Click "Change Password" to complete the process.
Create a BIOS User Password Recovery Disc
Step 1
Turn your laptop off and insert a flash drive into a USB port or use a floppy diskette in a floppy drive to begin the process of creating a password recovery disc to protect you in case you forget your BIOS user password.
Step 2
Start your laptop and enter your BIOS user password when your see the "password=" prompt. Alternately, the display may read "Remove FD." Press the "Tab" key.
Step 3
Press "Y" when you see the "Insert FD Ready (Y/N)" prompt. Alternately, the display may read "press key." Press any key. Your password recovery disk is created.
Step 4
Insert your disc or flash drive into the correct slot on your laptop when you are ready to use your recovery disc. Turn on the computer.
Step 5
Press the "Enter" key when you see "password=" and the computer will read the disc or flash drive and start your computer.