If you are trying to access a computer that has an Administrator password blocking your way, there is a way to quickly step around this problem—as long as you are trying to enter a Windows XP computer. Unfortunately, this easy "back door" solution was closed for Windows Vista and Windows 7 but there are a few ways to unlock a Vista or Win7 machine as well.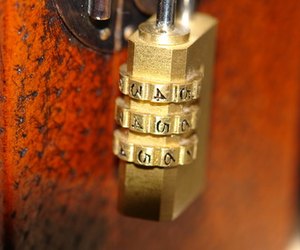 Easy Back Door: Safe Mode
You can get into any Windows XP computer protected by a password by pressing "F8" when the machine is first booting and then selecting "Safe Mode" as the start-up option. The password gatekeeper is bypassed in Safe Mode and you will be able to go to "Start," "Control Panel" and then "User Accounts." Inside User Accounts, remove or reset the password. Save the change and reboot windows through a proper system restart procedure ("Start" then "Restart.").
Hard Way for Windows Vista And Win7
Realizing the password security protection was so weak in Windows XP, Microsoft closed this door for Vista. Users of Vista and Windows 7 are unable to enter Safe Mode if a correct password is not inputted first. But, realizing that there are several scenarios where a legitimate owner may forget or lose a password, or have a password accidentally reset by a child or guest, Microsoft did create a fall-back position. Vista and Window 7 have a Password Recovery tool that can be used to record the password to a flash drive or CD. If you had the foresight to create this emergency tool, insert the disc or flash drive and boot the machine.
Last Ditch Effort for Vista And Win7
If you did not make a Password Recovery tool, there is one more way you can "break into" the machine: reinstall Windows using the onboard Recovery console. Read the Recovery option directions carefully, however. In some instances you can lose data when you reinstall Windows in this Recovery mode. Despite that threat, a full recovery is a better option than a totally useless machine. To invoke the Recovery console, place a genuine Windows Vista or Windows 7 setup disc into the CD drawer and boot the computer. Windows will offer the Recovery and Repair options. Conduct additional research at the Microsoft Support website on how to use these options and hopefully save some of your original data.
Caution: Getting Caught Is Easy
The owner of the machine will know someone has had unauthorized access to the computer in their absence. Their customary password \won't work or they won't be asked for the password when the user attempts to log on. You will not be able to uncover or recreate the password before you remove it from the User Account control panel because the password is masked with password "dots." Think about this potential discovery before you trespass in this manner.