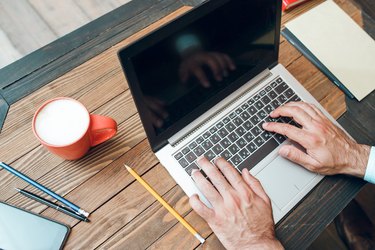 Although hard drive passwords certainly improve the security of data on your laptop, they can also be inconvenient when not really needed. If you use your laptop where it is safe from the risk of theft when you are not around, you may want to disable the hard drive password and reduce the amount of time needed to boot your notebook computer.
Step 1
Shut down the laptop. Leave it off for about five seconds and then turn it back on. Enter the current hard drive password when prompted to do so.
Step 2
As you see the initial boot screen, start pressing the BIOS access key. The key you need to press will vary depending on the manufacturer of your laptop. Common keys used, though, are the "F1," "Delete" and "F11" keys. Manufacturers like IBM include special keys for accessing the BIOS; therefore, check the owner's manual for your notebook for model specific information.
Step 3
Click the "Security" or "Passwords" menu option in the System Setup utility or BIOS Setup screen.
Step 4
Click the "Hard Disk Password," "Hard Drive Password," "HDD Password" or other similar option and then click the "Change Password" or "Remove Password" option. Enter the current hard drive password when prompted to do so.
Step 5
Press the "Enter" key or click the "OK" button without typing a new password. The utility resets the HDD password to a null or empty value (so you do not need to enter a password when the laptop starts). If your laptop has a "Remove Password" option, you should not need to do anything after you click the option and enter the current HDD password.
Step 6
Restart the laptop. The system should no longer prompt you for the HDD password.