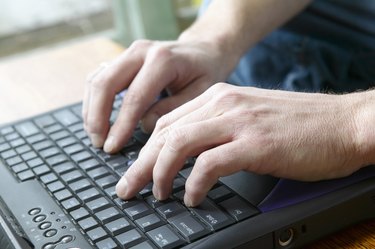 If you've forgotten your BIOS password, or if someone has changed the password on your Toshiba laptop without your permission, then there are a couple things that you can do to reset the password and access your computer. While the best idea is to contact Toshiba support, if you no longer have your serial number, they may not be able to assist you--thus leaving you to your own devices.
Reset the CMOS
The CMOS is, in basic terms, the part of the motherboard that stores the BIOS settings. To remove the BIOS password from your Toshiba laptop, your best option is to forcibly clear the CMOS.
To clear the CMOS, you must remove the battery from your laptop and leave it out for at least 30 minutes to an hour. The way to remove the battery from your Toshiba will largely depend on the model. A common way to remove the battery--particularly with newer models--is to release the battery lock on the bottom of the laptop, while sliding the accompanying tab over to the side. This will pop the battery out from its tray so that you can then pull it out all of the way out.
Before you remove the battery, turn off the laptop and remove the AC adapter. Otherwise, you could end up harming yourself or the laptop components. You must also ground yourself to prevent damaging the laptop with static electricity.
After about a half an hour or more, return the battery back to its tray and lock it into place. Power on the laptop. The computer, ideally, should no longer ask you for a BIOS password.
It's important to keep in mind that resetting the CMOS means that all of your BIOS settings will be reset to factory default. Also, sometimes you may need to leave out the battery for much longer than an hour to reset the password.
Use a Backdoor Password
If resetting the CMOS doesn't work, then your next bet is to try using a backdoor password. A backdoor password is basically a password that manufacturers include with the BIOS so that technicians can access the computers that people send in for repair. An example of a Toshiba backdoor password is, unsurprisingly, "Toshiba." When the BIOS prompts you to enter a password, entering "Toshiba" may allow you to access your PC and clear the old BIOS password. Another option is to hold the left "Shift" key down while booting.