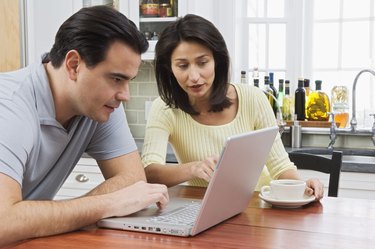 Although your passwords appear as dots when you type them into password fields in your Web browser, they are conveniently stored in your computer's keychain access log. This log contains passwords, certificates and keys from websites you've visited and applications that require passwords. To protect your information and identity, all passwords are hidden until you enter your system administrator password to reveal them. As a safety precaution, never give out your system administrator password or leave your computer unlocked when you are away from it.
Password Locator for PCs
Step 1
Open your Internet browser. For Firefox, click the "Firefox" menu, choose "Options" and choose "Options" again from the menu that slides out. Click the "Security" tab. Click "Saved Passwords" and select "Show Password." Click "OK" to confirm you want to show them.
Step 2
Download password recovery software. Go to CNET.com and click the "Downloads" tab at the top of the screen. Type "Password recovery" and sort the search results by most popular.
Step 3
Scroll down and click the "L0phtCrack" link. Click the "Download Now" button and save the file to your desktop.
Step 4
Double-click the file to run the installation, and double-click the "L0phtCrack" icon on your desktop to run the program. Click "Run Wizard" to retrieve passwords from computer.
Password Locator for Macs
Step 1
Click the "Finder" icon. Click "Go" at the top of the menu and select "Utilities" from the drop-down menu. Double-click "Keychain Access."
Step 2
Click the "Passwords" tab on the sidebar to the left, and double-click the account you wish to open. Check the box next to "Show password."
Step 3
Type your system administrator password and click "OK." Your password will show up in the box next to "Show Password."
Step 4
Click the red button in the upper-left corner of the screen to exit the window. Press "Command-Q" to exit Keychain Access.