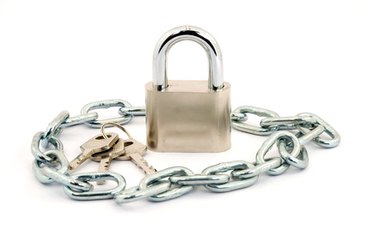 Finding a password can prove difficult, as the username/password system exists to protect confidentiality and privacy. However, in situations where the law allows you to access a password for a website--usually when you registered for the site yourself--some tips and tools can help you.
Step 1
Log in to your email account and type the name of the website along with "password" into the search box. Most websites send you an email to confirm your password when you register, so as long as you didn't delete the email, searching your archives should locate the information.
Step 2
Go to the login page of the website and click on "Lost your password?" or a similarly worded phrase. This will give you instructions for recovering your password, usually by entering your email address to receive a reminder.
Step 3
Go to a website such as BugMeNot.com, ZeroReg.com or SearchHacker.com, and type in the URL of the website to find a valid password. This avoids having to register for sites yourself. You have responsibility for checking the terms and conditions of each site to ensure you don't break any laws.
Step 4
Open "Options" or "Internet Options" in the toolbar of your browser, and find "Privacy" or "Passwords." Most browsers have a list of all passwords you have saved.
Step 5
Purchase keystroke recording software from a site such as FindPassword.com, NetVizor.net or SoftActivity.com, and follow the instructions to discover passwords for sites others have visited on a computer. This is only legal when someone has signed a contract giving you permission to monitor his Internet use, such as an employee.