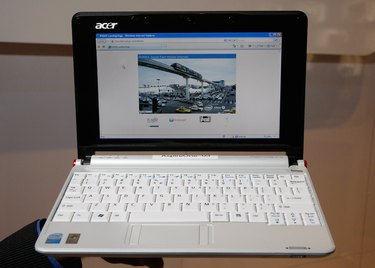 Acer eRecovery is a vendor-specific method you can use to restore your computer to its original factory settings, or to custom settings you create and store on your hard drive or other removable media. eRecovery also contains a backup utility you can use to back up data to your hard drive or other removable media. Access to eRecovery requires you to use the default "000000"password or one you select. While it is important to store a custom password in a safe location, if you lose or forget it, there are steps you can take to reset your Acer eRecovery password.
Step 1
Access the Diskpart command prompt. Acer stores custom eRecovery passwords on your computer in PQService, a hidden rescue partition. Locating this partition requires accessing the Diskpart utility from the command prompt. Diskpart allows you to run a scan on your hard drive and bring up hidden partitions. To access Diskpart, go to Start and type "cmd" in the search bar to bring up the black command prompt box, and then type "diskpart" at the prompt to switch to a Diskpart prompt. Depending on your computer, a new command prompt may open with the Diskpart prompt.
Step 2
Scan your computer configuration. At the Diskpart prompt, type "rescan" to run a system configuration check. When the scan finishes, you will receive a message informing you the scan is complete. At the command prompt, type "list disks" to bring up available disks and then type "select disk 0."
Step 3
Locate the hidden partition. At the command prompt, type "list partition" to view a list of partitions on your disk. Locate the partition with no name and a size of approximately 10GB. At the command prompt, type "select partition (number)."
Step 4
Determine the partition type and unhide the partition. The hidden PQService partition will be either a type 27 or a type 12 partition. If the partition is type 27, unhide it by typing "set id=07 override," and if a type 12, then unhide it by typing "set id=0B" at the command prompt.
Step 5
View the PQService partition. Return to the disk containing PQService by typing "select disk 0" at the command prompt, and then type "list volume" to view the contents of the disk. PQService will be visible in the list, preceded by a number. Type "select volume (number)" and then assign PQService a new drive letter so you will be able to open and view it from your computer interface window. At the command prompt, type "assign letter=f."
Reset eRecovery Password
Step 1
Open PQService. Navigate to the drive containing PQService. Find the file "aimdrs.dat." Right-click on the file and select "Open with" and then "Textpad," "Notepad" or another text editor you prefer.
Step 2
Open the file and find the password. Open the file with your text editor and locate the eRecovery password. Look for a line that reads, "Password=password name," "Hint=the password hint." Write down the password and close the file.
Step 3
Open eRecovery using the recovered password and follow the instructions to create a new password.
Tip
If you have questions or require additional assistance, call Acer customer support at (800) 816-2237.
Using eRecovery may result in the deletion of some hardware drivers. If a device such as a printer will not work after using Acer eRecovery, download and install new drivers from the manufacturer's website.
Warning
It is a good idea to back up your system before going into the Command Prompt.