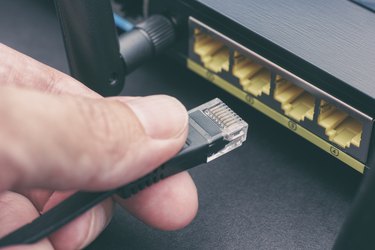 If you're having trouble with your AT&T U-verse router, such as if you can't properly connect to the internet, try restarting the router by unplugging it, leaving it for a few seconds and plugging it back in. If that doesn't help, you can start restoring it to its factory settings. If you have problems or questions at any point or your AT&T U-verse modem won't reset, consider contacting AT&T for help.
Restart Your AT&T Wi-Fi Gateway
If you are having trouble connecting to your AT&T Wi-Fi gateway or router from the devices in your home or can't reach the internet once you're connected, consider restarting the router. To do this, first unplug the device from the wall or power strip where it is plugged in. If it's a digital subscriber line, or DSL, modem that connects through a traditional phone line, then you will also want to unplug the phone line from the device.
If it has an internal battery for backup, remove the battery in order to disconnect the router from all power supplies. Make sure to note how the battery fits into the device so you can put it back in properly. If you're not sure whether it has a battery, check the documentation that came with it or look online using a device connected to the internet through another way, such as a cell phone that's online through the cell network.
Once all power has been disconnected, wait 20 seconds. Then, put the battery back in if you have one and plug the device back into the phone line if needed and back into the power outlet. Put the device back where it normally sits and wait up to 10 minutes for it to start back up.
Reset Your Router's Factory Settings
If simply rebooting your router isn't enough, you can reset it to factory settings. Keep in mind any custom changes you've made to its configuration will be erased, including specifying a custom Wi-Fi network name or a particular IP address.
Reset the AT&T router to factory settings by holding the reset button on it for at least 10 seconds. Wait until all the lights turn green and verify that the broadband or status light stays solid green. If you don't hold the button long enough, the AT&T U-verse modem won't reset its factory settings although it may reboot.
AT&T U-verse Modem Lights
If you're having trouble with your AT&T U-verse modem, the lights on it can give you a clue about the situation. There are typically lights that show things like the status of the modem's connection to Wi-Fi, to electrical power, to its battery and to the external network run by AT&T.
Each of these lights generally has multiple color-coded states it can take to indicate the status of the device. Check the online documentation for your modem on AT&T's website to see what the lights are trying to tell you.
Other Troubleshooting Tips
If you're having trouble with your internet router and you are an AT&T customer, you can always call AT&T for technical support. Call your own internet provider if you do not use AT&T.
First, it may be helpful to try to narrow down the problem. See if multiple devices are having trouble connecting, or if just one is, in which case it may be an issue with the device. Check to see what the modem lights are reporting and if it matches your experience.
You can also try replacing any physical cords, including phone and Ethernet cords, that are plugged into the router in case they have become damaged.