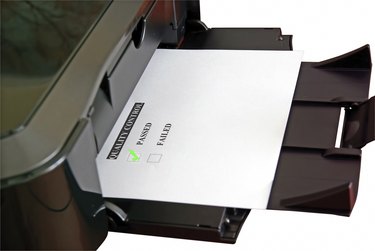 The versatility of the HP Officejet all-in-one copier, fax machine and printer can save your business time and money. You can perform multiple tasks without buying any additional equipment. Occasionally, your Officejet may encounter a printing problem that requires you to reset its memory. HP provides three different memory reset options, so you can control the amount of information that is erased.
Step 1
Turn the printer's power off and unplug it from the wall. Press the "#" and "9" buttons and hold both of them down at the same time.
Step 2
Plug the power cord back into the wall while continuing to hold the "#" and "9" buttons. Hold the two buttons for another five seconds after plugging it into the outlet.
Step 3
Press the power button on the Officejet and wait for it to turn on. When it finishes powering up, the memory will be reset.
Tip
You can also perform a partial reset or semi-full reset, instead of fully resetting your Officejet's memory.
A partial reset only refreshes the printer and clears out unused items in the memory. To perform a partial reset, hold down the "3" button instead of the "9."
Holding down the "6" button will trigger a semi-full reset, which also deletes all of your custom settings.
Warning
Proceed carefully when performing a full reset of your printer. Unrecoverable errors may occur if the process is interrupted.