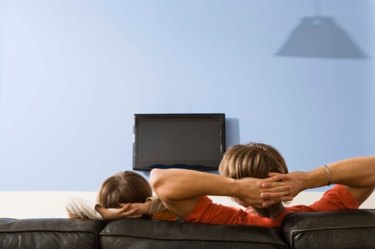 When you have a Samsung Blu-ray player connected to your TV, you can use it to play Blu-ray discs, DVDs and audio CDs. Use the Blu-ray player to watch movies, pause and rewind or fast–forward through scenes. You can also access bonus features, such as documentaries about a movie, extra audio tracks featuring commentaries by the director or actors, or trailers and deleted scenes. If the Blu-ray player experiences a problem, you can easily reset it.
Step 1
Power on the TV that your Blu-ray player is connected to.
Step 2
Press the "Power" button on the front of your Blu-ray player to turn it on.
Step 3
Press the "Open/Close" button on the player to open the tray. Remove the disc, and wait for the display to read "No Disc."
Step 4
Press the "FF" button on the player -- do not use the remote control -- and hold it for about eight seconds until the message "Reset" appears on the display, followed by the player turning off. Wait about 10 seconds after the player turns off.
Step 5
Press the "Power" button. The "Menu Language Selection" screen will appear on the TV. Each language has a number next to it, such as "1" for English.
Step 6
Press the number on your remote corresponding to the language you want to use for the Blu-ray player. The "e-Contents" menu will then display on the TV, indicating you have reset the Blu-ray player.