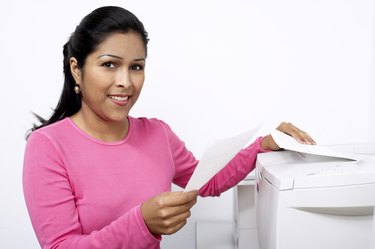 When your Samsung CLP-300 is not responding properly, or needs reconfiguration, you can reset the printer to clear any errors or configuration settings. The power reset clears the settings on the system board.
Step 1
Push the power button to turn off the power to your Samsung CLP-300 printer.
Step 2
Unplug the power cord from the wall outlet, then from the back of the printer. Wait 10 minutes, then attach the power cord to the back of the printer followed by the wall outlet.
Step 3
Press and hold "Stop" until the printer starts printing a test page. This will complete the reset process.