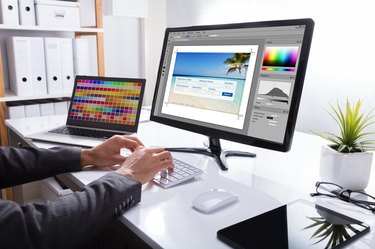 The Portable Network Graphic file format, also referred to as PNG, as become a ubiquitous element of the modern web and digital media. Thanks to lossless compression, PNG image files allows for a degree of quality and flexibility that cannot be found in many of the other image formats used today. If you are using a PNG file for any media application, you will probably need to resize one of the files using a photo resizer at some point. PNG files can easily be reformatted using a variety of standard image and photo processing tools in existence today. Understanding how to resize a PNG file requires little prior knowledge of computer technology and can be accomplished with just a few clicks.
Basics of the PNG File Format
As mentioned previously, the PNG file format provides a number of benefits over other commonly used formats such as JPG. In addition to the lossless compression mentioned previously, PNG files also allow for embedded transparency, making them the ideal choice for media professionals who are heavily editing these images or integrating them into other media works. Although PNG was created as an evolution of the GIF format, the former are not capable of the animation effects included with the latter. Given their near universal compatibility with web browsers, however, PNG files make up for this decrease in functionality with multi-platform utility.
How to Resize PNG Images
If you are ready to begin resizing a PNG image, you can do so using virtually any image editing program available today. For the purposes of accessibility, this discussion will resize a PNG file with the free-to-use Google Drawings program serving as an image resizer. Once you have opened the program through Google Drive, you can import your PNG file using the "Insert" menu at the tool of the toolbar. From here, you should be able to click the word "Image" which appears in the drop down menu and then select "Upload from computer." At this point, locate your preferred PNG file and insert it directly into the document.
Keep in mind that these specific details of the discussed steps will certainly vary from program to program, although the general concepts and overarching ideas will be virtually identical. After the image has been uploaded, you should notice that a variety of clickable handles appear on all sides. These handles will be presented as blue squares. You can click any of these and drag your cursor to begin resizing the image. This method of image size adjustment is somewhat less precision than others, but allows for quick macro-scale resizing as needed.
Other Resizing Methods to Explore
If you are attempting to resize your image with an additional degree of precision, you can right-click the image file and then select "Format Options" from the menu that appears. Here, click the tab next to the "Size and Position" label to access a variety of precision resizing tools.
This method is optimal in situations where you may need to resize a file as part of a larger workflow and must match specific designer guidelines. Fortunately, both tools will allow you to quickly and easily begin resizing your PNG file and ensure that you are able to deliver the necessary content within an expedient timeframe.
In some image editing programs, you will also be able to resize images through the direct manipulation of pixels-per-inch, also referred to as PPI. Ultimately, the degree to which you need to precisely manipulate your image will determine what method you use and which software package is right for you.