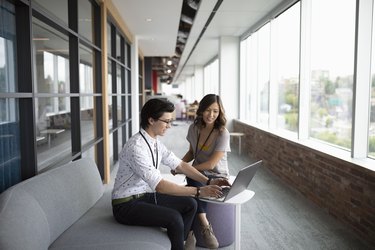 PowerPoint has long been considered an industry-standard tool for delivering outstanding, polished presentations in a professional environment. Featuring a continuously evolving array of features and functionality, PowerPoint has distinguished itself among various competitors and is used by individuals across a wide array of niches and industries.
In addition to a variety of tools used to enhance the structure and flow of your presentation, PowerPoint also includes its own fair share of graphics editing resources. If you are trying to crop a photo into a circle in PowerPoint, you can do so by following a few relatively straightforward steps.
The Basics of PowerPoint Image Creation
Although PowerPoint does not provide users with the flexibility in graphics tools found in software such as Adobe Photoshop, it nevertheless remains a powerful asset to anyone requiring quick photo and image editing capabilities. Not only can users import their own media into Powerpoint, but they can also quickly begin to edit create and edit various lines and other geometric shapes within the software itself.
This is made possible using the "Insert" tab at the top of the screen. Whereas earlier versions of the software used a floating toolkit panel, the ribbon tabs that have been introduced in recent versions of the software provide a more intuitive and streamlined approach for users. By clicking the "Insert" ribbon tab, a variety of graphics editing and creation tools will become available to the user. These include options for integrating pre-existing media, editing items that are currently in the slides themselves, as well as creating new objects.
Cropping Your Image
Once you have created or inserted the desired image, your next step will be to crop it to your desired shape. Whether you want to crop a photo into a circle shape or virtually any other geometric design, you can do so by navigating over to the "Format" ribbon tab. You should notice that clicking the "Format" tab will also expose the option to open the "Picture Formatting" tools. Here, you will find various tools that can facilitate your goal.
Select the "Crop" button to access the tools you will need to complete the crop. When clicking the "Crop" button, continue to press the button in order to access an additional set of menu options. This will include the "Crop to shape" button. Pressing this button will open an index of shapes that you can use as a cropping "stencil."
Select the circle image and then click and drag the various orientation handles to position and size your circle as needed. Once you have created the perfect circle for your crop, you can press the "Crop" button again to complete the process. Your image should now be cropped according to the bounds established in the circle crop.
Canceling Your Crop
If you are unhappy with your attempts to crop a circular image, you can always revert back to the pre-cropped image by using the "Undo" command. Knowing how to quickly undo changes you have made is particularly valuable in this software. With that in mind, you should familiarize yourself with the onscreen and keyboard commands for undoing previous steps. This will help ensure that you can quickly fix and alter prior mistakes and move ahead with satisfactory results.