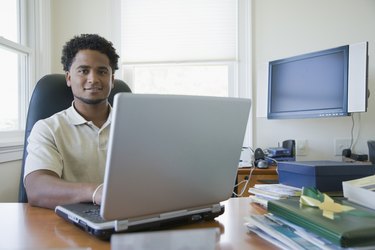 Windows Media Player is a digital media application that is used as the default media player on Windows-based PCs. Brand-new Windows machines will typically associate most common video file types with Media Player, meaning video files will automatically launch in Media Player when you attempt to open them. Video resolution often does not exactly fit the resolution of a computer screen, so the size of a video in Media Player my be too small. Media Player offers a few simple ways to resize videos.
Step 1
Click "Start," "All Programs," and then "Windows Media Player."
Step 2
Click on "Now Playing," browse your computer for the video file you wish to resize, click on it, hold down the mouse button, drag the video icon into the Media Player window and then release the mouse button. The video will appear and start playing in the "Now Playing" window.
Step 3
Right-click the blank space next to the "Now Playing" menu, point to "View," "Video Size" and then click on a size percentage (50%, 100% or 200%) or click "Fit video to Player on Resize." Selecting "Fit video to Player on Resize" will automatically make the video fit the Media Player window. If this option is checked, selecting a different size percentage will not change the size of the video.
Step 4
Click the "Restore Down" button (the button next to the "X" used to close the window) and then click on the lower-right corner of the Media Player window and drag the corner to resize the video. When the video is set to "Fit video to Player on Resize," the video will automatically fit the window as you drag the corner.