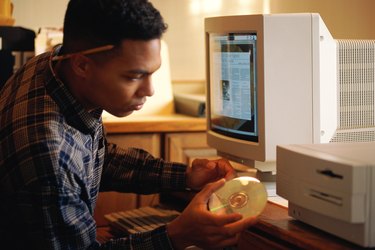 Whether you are restoring your computer to its original factory settings because you are selling it or because there is an error within the operating system, this is a process that even a beginning computer user can complete without paying for a professional to do it for them.
Step 1
Insert the original installation disc into the CD-ROM drive of your computer and restart the computer.
Step 2
Choose to boot from the CD-ROM if prompted to do so. Some computers will automatically attempt to boot from the disc in the CD-ROM drive. Some will issue an on screen prompt to press a key on your keyboard to boot from the CD-ROM drive.
Step 3
Select the option to reinstall when prompted by the computer. As the computer boots from the CD-ROM drive, you will be asked to choose to repair your installation or to reinstall Windows. Choose to reinstall and the computer will continue the process without further input from you. When the process is complete, the computer will automatically reboot.
Tip
This works for all versions of Windows.
Warning
Be sure to back up any date before beginning the restore process. All personal files and programs will be lost during the process.