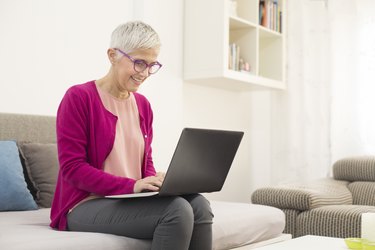 If you're still rocking a system running Windows XP, don't take any gaff from bleeding-edge techies. In its heyday, Windows XP sold over 600 million copies, according to web-based monitoring service NetApplications, and once held 44.85 percent of the operating system market. Even in 2017, by which point XP was already very long in the tooth, the sturdy old OS was still installed on 7.04 percent of the world's computers, as per Netmarketshare.com data. At the time, it was more widely used than Windows 8.1, any version of Mac OS X or any version of Linux. Since XP had such a high proliferation rate, there's plenty of info on how to factory reset Windows XP. While having an XP installation disc on hand is the best route, the CD-less among us still have options.
The State of XP
Twelve years after Windows XP hit the scene in 2002, Microsoft officially laid it to rest. The tech giant declared it would end support for the popular operating system on April 8, 2014. That means that, after that date, there were no more security updates from Microsoft. Likewise, update and patch support from third-party software and hardware makers saw a slow decline until becoming virtually nonexistent.
But if you're an XP user who's keen to restore your system to factory settings, there's a silver lining in there for you. Because the dust has settled on all updates and support for Windows XP, we can be certain that all users are having the same baseline experience without having to worry about different versions of the operating system. Basically, we know exactly which version everyone has, and that's precisely because we don't have to worry about future updates. Without worrying about potential variations, we know that the process for getting back to those factory settings will be a fairly consistent experience for just about every XP user.
The Bad News
To completely restore a Windows XP computer (or any other Windows PC, for that matter) to its original, fresh-out-of-the-box factory settings, you're looking for a process called "system reset" or "factory reset." This wipes the hard drive clean of all your personal files, software and settings, leaving the computer with a fresh new install of Windows XP and the programs it natively includes.
The bad news is that, in order to perform a full factory reset on Windows XP as Microsoft intended, you're going to need that Windows XP CD (meaning the CD used to install the Windows XP operating system). While Windows 8 and beyond made system reset a built-in software tool that you can use sans compact disc, this function was only made officially available via CD-ROM back in the XP days. But don't panic yet.
Track Down a CD
If you're bound and determined to party like it's 2004, getting your hands on a shiny new (or shiny used) Windows XP CD isn't too terribly difficult, and it won't break the bank. In this case, eBay is probably your best bet.
Based on early 2019 listing prices, you can easily net a pre-owned Windows XP Home Edition CD-ROM starting at around $4.99, or around $30 for a brand new, still shrink-wrapped in the box copy. In either case, there are a few things you should be wary of before you start shopping if performing a factory reset is the name of the game:
Make sure the CD is licensed.

Make sure the CD includes a product key.
Do not purchase a "reinstallation" CD branded with a particular PC manufacturer (such as Dell or HP), as this may not be compatible with your computer.
Similarly, do not purchase a "service pack," as this caters to existing installs.
Be careful to avoid purchasing digital or "digital CD" versions of Windows XP. Though they may be cheaper, they won't be able to perform the factory reset you're looking for (not to mention, they may be legally dubious).
Perform a System Reset
About eleven bucks (with shipping) later, you've got your retro-chic Windows XP CD-ROM ready to roll. Now that you've saved that CD from its dark future as a coaster, it's time to factory reset Windows XP the proper way. Here's a step-by-step guide to the not-so-strenuous journey:
Insert the Windows XP installation disc into your computer's CD-ROM drive.

Restart the PC.
Press your favorite key in the world when the message "Press any key to boot from CD" appears onscreen.
Hit "Enter" at the Windows XP setup welcome screen.
Press "F8" to accept the terms and agreements (after you've thoroughly read them, of course).
Follow the on-screen prompts and select the hard drive partition (i.e., section) of your choice on which to format and install Windows XP.
Formatting the drive erases all of its existing data (so make sure you've backed up everything you want to hold on to) and begins the installation process. You may have to click "Yes" or a similar option to officially kick it off, but once the OS is installed, it'll have all the same features and settings of a factory-fresh Windows XP computer.
Try This CD Alternative
For the countless droves of Windows XP users who've misplaced their original installation disc or never had one in the first place, a software company called RecoveryEssence and the Western New York Computer Repair Service offer a solution.
Available for a little under $15, as of 2019 prices on Amazon, this unofficial software is called, fittingly enough, XP Reinstall. The DVD promises to reinstall the Windows XP operating system just like new. This fresh install includes the Microsoft-mandated Service Pack 1, Service Pack 2 and Service Pack 3, as well as the Internet Explorer 8 browser. It comes packed with the final Windows XP update so you won't have to perform any manual updates yourself.
According to RecoveryEssence, the disc initializes a replacement of XP on any hard drive regardless of your computer's brand. Though it's not endorsed by Microsoft in an official capacity, the software has been endorsed by over 75 Amazon customers, who give it 3.6 out of 5 stars.
Other companies offer similar software, as well. Advanced Repair System's Windows XP Reinstall, Repair, Restore, Recovery Disk also aims to be a factory-fresh XP experience. This alternative retails for about half the cost of the RecoveryEssence solution, but it only works on 32-bit versions of XP and requires you to use your original Windows XP product key to complete the reinstallation. While the RecoveryEssence software works across Windows XP Home and Business editions, Advanced Repair System's disc is designed to work only with Windows XP Home.
Try These Software Alternatives
Fortunately, CDs aren't the be-all, end-all option for restoring your Windows XP computer to its more stable prime. Various developers offer a slate of software that can help you back up and restore your XP PC in much the same way that System Restore works on more modern, post-XP operating systems, but often with a few more perks to boot. Let's take a peek at just a few of them.
EaseUS Todo Backup: You'll need to install EaseUS Todo Backup before your XP computer crashes to take full advantage of its benefits, but once installed, it essentially gives you the ability to perform a customized System Restore, so you can restore your OS to working condition without having to do a full reinstallation. This free utility creates recovery backups with just one click and even lets you clone your hard drive to another destination for backup purposes.
Paragon Drive Copy 14 Special Edition for XP: Available for free download, Paragon's Drive Copy 14 Special Edition might not help you out of a virus-induced pinch, but it offers a no-cost backup solution for your XP computer if you're planning to migrate from one XP system to another. Drive Copy 14 allows you to copy your full hard disk and even lets you migrate the OS from a regular hard drive to a smaller solid-state drive.
Macrium Reflect: Though it comes at a cost of $69.95 for single license, Macrium Reflect 7 Home Edition packs more features than the competition and works on Windows XP, Vista, 7, 8 and 10 operating systems. This tool automatically backs up your files and folders to a compact, compressed archive file, allowing you to recover your entire disk with a few clicks. Additionally, Macrium helps you recover specific hard drive partitions, clone your hard drive, recover data on a per-item basis and protect your backups from malicious ransomware via Macrium Image Guardian. You can give it a shot for free with a 30-day trial.
What About System Restore?
Whether you still have your Windows XP disc in your CD binder, sold it at a yard sale with your Nintendo's GameCube or never had one to begin with, System Restore can help restore your computer to an earlier state. It won't get you to out-of-the-box factory settings, and the included system utility might not include all the bells and whistles of third-party software, but it does serve as a sort of mini time machine that can help you solve all sorts of pesky issues, provided those issues have recently appeared on your system.
Part of Windows' suite of tools, System Restore usually works in the background of your computer. At regular intervals called Restore Points, System Restore basically "remembers" the state that computer is in, taking a sort of snapshot of your files and settings. When you perform a System Restore, you can return to that saved state without having to totally reinstall Windows XP.
Perform a System Restore
Though you can't restore XP to factory settings without a CD, performing a System Restore is a fairly straightforward process if you're still able to access your XP computer's desktop:
Head to the Start menu, then click "Help and Support."
Select "Undo changes to your computer with System Restore" under the "Pick a Task" section, then hit "Restore your computer to an earlier time" and "Next."
You'll see a calendar that says "On this calendar, click a bold date." Any of those bolded dates represent a Restore Point. Select the Restore Point you wish to return to, or click a restore time from the list below the calendar.
Click "Next," then verify that this is your desired Restore Point by clicking "Next" one more time.
Wait for the computer to restart. When the "Restoration Complete" window appears upon restart, click that "OK" button.
If you can't access your desktop, not all hope is lost. Use this trick to get System Restore rolling, sans Start menu:
Turn your computer off, then turn it back on. As it's powering up, press "F8" once every other second until the Windows Advanced Options menu appears.
Using the arrow keys, select "Safe Mode with Command Prompt" and hit Enter.
Use your administrator credentials to log in as an administrator to make the blinking command prompt cursor appear. In the blank field, type "C:\Windows\system32\restore\rstrui.exe" and press the Enter key once again to launch System Restore.