If your eMachines computer is plagued by such glitches as frozen screens or file errors, a simple reset may help kick it back in gear. Fortunately, the machine is equipped with two tools -- system refresh and system restore -- that can help eliminate these problems and get things in working order again. For more complex problems or to prep it for a new owner, however, it may be a better idea to restore or reset the computer back to its factory settings. For this purpose, use the Reset My PC functionality and reinstall the entire operating system without the need for separate installation discs.
1. Launch the Charms bar and select Settings.
2. Select Change PC Settings.
3. Select Update and Recovery and then Recovery.
4. Select Get Started under the option to Remove Everything and Reinstall Windows.
to initiate a full system restore. It may take several minutes to complete, depending upon how large your hard drive is and how much content it is storing.
No Access to System Menus? You Can Still Purchase a New Disc.
In some cases, your machine may not be booting correctly or another issue may limit your access to system menus. If you are unable to initiate the Reset My PC option, and you no longer have the original disc that came with your eMachines computer, a clean install of the operating system may be your only option.
You may be able to purchase a new eRecovery disc from Acer, the company that owns the eMachines brand, after supplying your device's serial number as proof that you own the system. If your machine's software is no longer available, purchase an installation disc for the same version of Windows that was previously running on the computer.
The Microsoft Store is the go-to retailer for the current version of the Windows operating system, but the company discontinues sales of older versions with every new release. If you're in need of a legacy version, try a big box retailer such as Amazon, Newegg or Tiger Direct for a genuine copy of the one you require. But be forewarned: Microsoft only extends support for older versions of Windows ten years post-release. If your eMachines computer was running Windows XP or older, you may be out of luck.
When you have the appropriate disc in hand, you need only insert it into the CD or DVD drive and setup should start automatically. If it does not, and you're able to access Windows, double-click your DVD drive to explore the disc, and then double-click on setup.exe. If Windows isn't working, shut down your computer and then restart it again. When prompted, press any key and follow the on-screen instructions to reinstall the operating system.
Since it is directly from the eMachines manufacturer, you can expect an eRecovery disc to reinstall all of the original software and drivers for you. If you've installed from a clean Windows installation disc, however, you are only going to get a basic installation that doesn't include the default eMachines applications and drivers. In this case, you will need to spend some additional time searching for installation downloads unique to your eMachines model.
System Refresh and System Restore
If a full factory reset seems a little too permanent, and you think a simple cure may be all you require, a system refresh or system restore may be just the ticket.
A system refresh will essentially reinstall Windows without affecting your personal files and settings. It also won't affect any applications that came pre-installed on your computer. Any programs installed after purchase of the machine, however, will be removed in the process of refreshing. To take advantage of this functionality, follow steps 1 through 3 above, and then select the option to Refresh Your PC Without Affecting Your Files instead.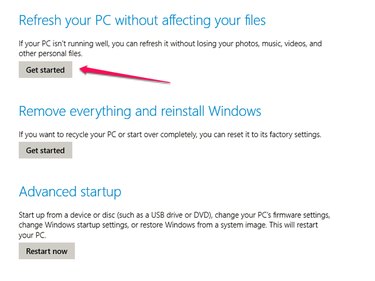 A system restore, on the other hand, merely restores Windows back to an earlier point in time -- and also without changing your personal files -- but it should only remove the apps and drivers you've installed in the time since the restore point you choose. This function can be launched within the Recovery tool in the Control Panel.