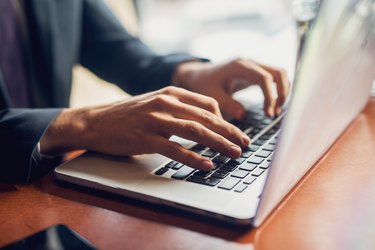 Older laptops often came with one or more discs that you could use to restore your computer to its original factory-fresh condition if you needed to. The process removes all your personal files from the machine, which is necessary if you're planning to sell it, and it's also a functional – though drastic – way to recover from a bad OS crash, malware or other problems. Newer Toshiba Satellite models, like most laptops, don't do that anymore. Instead, the restore files are kept on a small hidden partition of the hard drive, so you don't need a physical disc.
Toshiba Satellite Factory Reset
To factory reset a Toshiba laptop running Windows 10, choose Settings from the Start menu and then select Update & Security. From that screen, choose Recovery and then, beneath Reset This PC, tap or click Get Started.
At this point, you have the options to keep your files, remove everything or restore factory settings. Choosing Restore Factory Settings is the option you want if it's available. If that option isn't provided, choose to Remove Everything instead. Typically that results in a plain-vanilla Windows installation without any of the utilities Toshiba provides for its laptops.
Resetting When Windows Won't Start
That option assumes you can get Windows to run, which isn't always the case. In fact, a non-functioning OS is often the reason why you want to do a reset. If that's the situation, hold down the 0 (zero) key while the computer reboots. You'll come to a blue screen with the words "Choose an Option." Choose Troubleshoot and Reset your PC, and you are given the same options to keep your files, remove everything, or perform a complete factory restore.
Choose the restore option to return your Toshiba Satellite to factory settings.
Resetting in Windows 8/8.1
For older Toshibas running Windows 8 or 8.1, the process is similar, but the specific steps are different. Hold the Windows key and press C to open the Charm bar and then click Settings and Change PC Settings.
In Windows 8, click General at the left of your screen and then scroll the right side of the screen down to the bottom. Under Advanced Startup, choose Restart now.
In Windows 8.1, click Update and Recovery at the left of your screen and then Recovery. At the right, scroll down to Advanced Startup and choose Restart now.

A blue screen opens, with the Advanced Startup options. Choose Troubleshoot, then Refresh and Reset and Advanced Options. On this screen, choose System Restore to begin the restore process.
If Windows 8/8.1 Isn't Running
Windows 8/8.1 also has a reset-while-booting option for use if your Windows installation isn't running properly. Turn on the computer and then immediately begin tapping the F12 function key at the top of your keyboard. Use your cursor keys to choose from the menu that pops up and press the Enter key. Press the Y key to confirm you want to continue recovering your system and go to the blue Advanced Startup screen. Click through the same options to restore your system.
Toshiba Satellite Recovery Disc
Even though your recovery files are concealed on the hard drive, it's smart to make a restore disc or USB thumb drive to protect yourself in case your hard drive fails or you choose to upgrade it.
Many Toshiba laptops have a program called Toshiba Recovery Media Creator. To find it, open the Start menu and type "Toshiba recovery" into the search bar. Open the Media Creator program. The options vary depending on which model of Toshiba you have. Some give you the option to create backups of your installed applications as well, while others do a simple factory restore.

Choose between a USB drive or optical DVDs. If you pick DVDs, the program lets you know how many you need before you start. Follow the on-screen menus to create the actual discs. Note that not every Toshiba has this program, so you may need to use the comparable program from Microsoft instead.