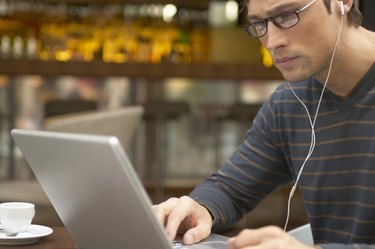 Over time, your computer's hard drive can become clogged with extraneous and disorganized files. Reinstalling the operating system will revert the computer to the original settings, causing it to run more efficiently. The process will also resolve problematic issues, such as viruses or registry errors.
There are two methods for reinstalling Windows: with a Recovery Disk or Windows operating system DVD, or through the recovery partition. Depending on the model of your Toshiba Satellite, you may or may not have the disk or DVD that came with the computer. In such a case, the recovery partition is installed on the hard drive of the Satellite. Toshiba's recovery software is called the Toshiba Recovery Wizard, and it is accessible during boot up.
Reinstall Windows from a Disk
Step 1
Turn on your Toshiba Satellite. Insert your recovery disk or the original Windows operating system DVD into the Satellite's CD/DVD drive. Turn off the computer.
Step 2
Turn on the Toshiba Satellite. In the first few seconds while it is starting up, press and hold the F12 key on your keyboard to access the Boot Menu. (Note: Some Toshiba models may tell you to press "C" to boot from the CD-ROM). The screen will display boot for this boot up session only.
Step 3
Use the arrow keys to navigate. Select the CD-ROM/DVD drive to highlight it. Press "Enter." Be aware that this setting is for this session only; it is not a permanent change.
Step 4
Allow the computer to start up. Follow the onscreen instructions for reinstalling the operating system from the disk.
Reinstall from a Recovery Partition
Step 1
Boot up the Toshiba Satellite. In the first few seconds while it is starting up, press and hold the F8 key. This will begin the "Advanced Boot Options" menu.
Step 2
Use the arrow keys on your keyboard to navigate the menu. Move the keys to select "Repair Your Computer." Press "Enter."
Step 3
Select your language and keyboard; click "Next."
Step 4
Select your Windows user name from the drop-down menu. Enter your password if required. Click "OK." This will begin the "System Recovery Options" menu.
Step 5
Select the Toshiba Recovery Wizard and follow the onscreen instructions. The Toshiba Recovery Wizard will delete all existing data on the hard drive and reinstall Windows.
Tip
Install Windows Updates after you reinstall Windows.
Warning
Reinstalling Windows will delete all data on your hard disk. Be sure to back up your personal files and information before you begin the recovery process.
To avoid problems during the recovery process, do not run the laptop on battery power. Plug in the AC power cord.