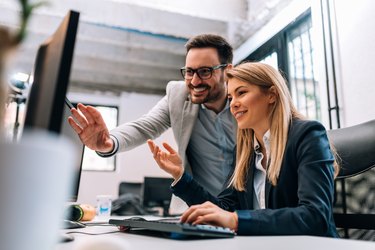 If you're having problems starting a Dell computer and it doesn't seem to be caused by hardware, you have a few options for resetting the operating system software. Refresh your PC to reinstall Windows while keeping your files and personal settings. Reset it to reinstall Windows while removing files, settings and applications. The most extreme measure is to restore a Dell computer to factory settings or to settings saved at an earlier point in time. This will return the computer to its out-of-the-box software state.
Reset a Dell Computer in Windows 7
Before you begin the process to reset your Dell desktop computer to factory settings, you should back up all personal files that you don't want to lose. This includes photos and documents as well as saved email messages and any apps you've installed. Once you've backed up your data, power off your computer and disconnect all peripheral devices except the monitor, keyboard and mouse. You should also disconnect your router or modem and any network cables.
Power up your computer and tap the F8 key as it restarts. Continue to tap the key once per second until the Advanced Boot Options menu is displayed. Select Repair Your Computer using the arrow keys and press the Enter key, then specify your language settings and click Next. After logging on as system administrator, select System Restore and click Next. You will be shown the most recent restore point, which Dell recommends as the best place to roll back to. You can choose another restore point by selecting Show more restore points. Once the system restore finishes, click Restart to reboot your computer with restored settings.
To reset to the factory settings instead of a restore point, follow the same process but after logging in as system administrator, select Dell Factory Tools followed by Dell Factory Image Restore. Pick Next and the Confirm Data Deletion menu is displayed. Confirm that you want to reformat the hard drive and restore system software and settings to their factory condition.
Dell Factory Reset in Windows 10
The process to return a Dell computer to its factory settings is simplified in Windows 10. While the computer is running, search for "Reset this PC" in the desktop search box. Under Advanced startup, click on Restart now, then select Troubleshoot when asked to choose an option. Finally, select Factory Image Restore and follow the instructions for the final steps in the reset process.
If your computer doesn't boot, it should automatically go to the Windows Recovery Environment after the third attempt. There you can choose the Troubleshoot option and then specify Factory Image Restore and follow the displayed instructions.
To go back to a clean version of Windows and remove all the files that have been added to a computer since it left the factory, you can also use Windows Push Button Reset on a Dell computer. Search for Reset this PC from desktop search and select Get Started. Choose the options Remove everything and Remove files and clean the drive. Follow instructions to complete the reset process.
Windows 10 Reset on Locked Computer
If you are locked out of your computer because you don't have the password, you can attempt to reset your password by logging in to your Microsoft account from another computer. When this isn't an option, you can still reset the computer by turning it off and holding down the Shift key while pressing the power button. Release Shift when the Recovery screen is displayed. Select Troubleshoot, press Enter and then select Reset this PC and Remove Everything.
Reset an Upgraded Windows 10 Computer
Dell computers that have been upgraded to Windows 10 need special treatment when restoring to factory settings. First, you must reinstall the operating system the computer was shipped with, such as Windows 7 or Windows 8.1. The factory settings for that version of Windows will be restored. Then the computer can be upgraded to Windows 10 again. A Dell computer can't be restored to Windows 10 factory settings directly because it wasn't shipped with that version.