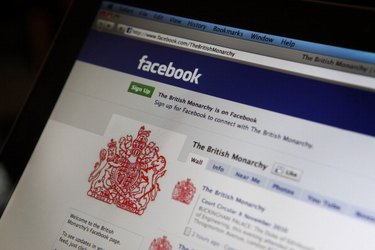 Whether you find the Facebook site a distraction to your life or feel concerned about having personal data stored there, you have options to temporarily shut off your account or permanently delete it. Because the site understands that users may change their minds after opting for deletion, Facebook gives you a short time to change your mind before it moves forward with removing your data from its servers. Even when you can't recover your deleted Facebook account, if you made a backup copy of your data before you deleted your account, you still have all your posts, images and other data.
Check Account Deactivation vs. Deletion
If you're second-guessing your decision to delete your Facebook account and now want to recover it, first check whether you deleted the account or opted to deactivate it instead. Facebook doesn't set a deadline for recovering a deactivated account as it does for a deleted account.
A deactivated Facebook account hides your timeline from everybody and doesn't show your name when people search for users. Your account still shows up when one of your Facebook friends looks through their friends list, although without your profile image. Furthermore, content such as Facebook messages or comments on other people's pages remains on the site. With a deactivated account, Facebook doesn't delete any of your data, so it is all there for you to reactivate it.
However, when an account is permantly deleted, that data isn't accessible to you anymore, and you can't do anything to get it back. To allow people to change their minds after they delete their Facebook accounts, Facebook allows up to 30 days after the deletion request to regain access to your account and data. The full time for Facebook to delete your account data, including comments and posts, is usually 90 days, although the site mentions it may be longer if placed in their backup storage, but you can't access those files after 30 days.
Reactivate a Deactivated Account
If you're unsure whether you deactivated your Facebook account rather than deleted it, you can attempt to log in with the Facebook app or website. If you no longer have your account details, you can use Facebook's account recovery process to verify your identity using your phone number or a similar method and reset your password to gain access. After you're in, you'll see a message about reactivating your account and gaining access to all your contacts, groups, posts, media and other Facebook data.
Recover Deleted Facebook Account
As with trying to reactivate a Facebook account, you can try to log in to determine whether if you can cancel the deletion process. As long as it's been no more than 30 days, you see the date when Facebook plans to fully delete your account along with a "Cancel Deletion" button. Click that button to stop the process and keep your data.
If it's been longer than 30 days, you see an error about a failed login, and you won't be able to restore your account data. When the content you want to restore includes images, videos or similar items that you've shared, you can check with your contacts to see if they still have the files. You can also look through your device's media since you may have saved those items before you posted or shared them.
Preserve Facebook Account Data Before Deletion
Since the window to recover a deleted Facebook account is only 30 days, the safest action is to back up your Facebook data before you delete the account. When you make the initial account deletion request, Facebook presents you with an option to download a copy of your information and prompts you to select the types of items you want to download. You can also do this at any time when your account is active by heading into your Facebook settings, locating the "Your Facebook Information" option and going to "Download Your Information."