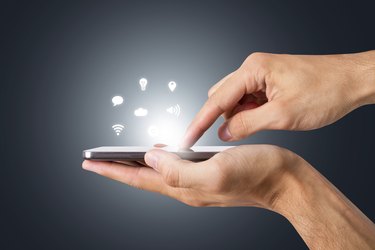 You can use Facebook's Deactivate Your Account tool to temporarily suspend your account. Accessing the Deactivate Your Account tool varies slightly depending on whether you're using Facebook on your computer or on a mobile device.
Understanding Deactivation Versus Deletion
Before you deactivate your Facebook account, understand the difference between deactivation and deletion. When you deactivate an account, that account disappears from Facebook, and people can no longer see it or contact you. Your account still exists though, and Facebook retains all your data in case you want to reactivate your account in the future. Deletion, on the other hand, permanently deletes both your account and all its associated data, none of which can be restored.
Deactivating Through Your Web Browser
To deactivate your Facebook account in your Web browser, log in to your account and click the down-arrow in the top corner of any page. Choose "Settings" from the drop-down menu, click "Security" in the menu column and then select "Deactivate your account." Facebook prompts you to select a reason for your deactivation. Click one of the provided radio buttons to select your reason, click "Confirm," enter your Facebook password in the provided field and then click "Deactivate now" to complete the process.
Deactivating on a Mobile Device
If you're using the official Facebook app on a mobile device, the process of deactivating your account is slightly different. Log in and tap the "More" button in the top corner of the app, identified by three horizontal lines. Scroll to the bottom of the More menu, touch "Account Settings" and then select "General." Touch "Deactivate" to deactivate your account.
Reactivating, Deleting and Account Memorialization
If you want to reactivate a deactivated account, just log in to Facebook again. Your account and posts are automatically restored.
To permanently delete an account, you must contact Facebook and request permanent account deletion (link in Resources). Before you do so, consider downloading your Facebook data to your computer so that you have a record of it. Click the down-arrow in the top corner of any Facebook page, click "Settings" and then select "Download a copy of your Facebook data." Click "Start My Archive" to download the data onto your computer.
If an individual has died, you can memorialize his Facebook account so that it remains online but can't be edited. Submit a memorialization request through Facebook's Memorialization Request page (link in Resources).