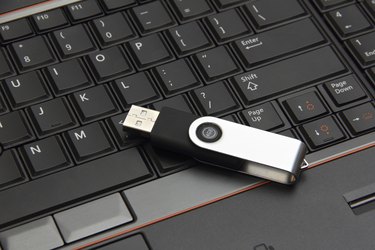 When ejecting a flash drive from an actively running computer, you risk corrupting its files. To prevent this, Windows 7, 8 and 8.1 feature a built-in utility that automatically starts in the system tray whenever you insert a flash drive. This utility notifies you whether it's safe to eject your flash drive, and warns you if the drive's in use.
Safely Removing a Flash Drive
When you insert a flash drive into a computer running Windows 7, 8 or 8.1, an icon reading Safely Remove Hardware and Eject Media displays on the system tray. To unplug your flash drive, right-click that icon, and select Eject USB Flash Drive. If it's safe to eject, a notification displays Safe to Remove Hardware.
If instead, the utility notifies you that the flash drive is in use, close any files or applications that you are running off the flash drive, and then try again. If a random process still prevents you from ejecting the flash drive, log off of your Windows user account, log back on, and retry.