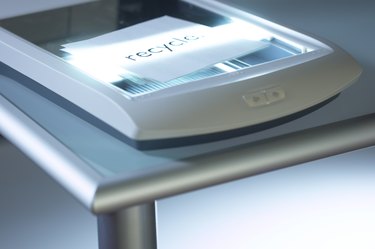 Have you ever wanted to save a document with important or personal information to your Word program yet lacked the ambition to type it out in its entirety? When the document is many pages long, it becomes an extremely time consuming project to type. Well, no longer. You can scan a document into Word. Simply put, you can use a software application to recognize the words on your document and move them into a Word document that you can edit and format. Never again will you have to spend great amounts of time copying information by hand when you can scan it instead.
Step 1
Make sure your computer and your scanner are on and in proper working order. Your scanner should have the latest drivers installed. This will help it to best handle the Optical Character Recognition (OCR) program, which translates images to text. Your computer should be free of viruses and spyware.
Step 2
Most computer scanners come with an OCR application. In the unlikely event that you don't have one, download and install an OCR program. SimpleOCR (simpleocr.com) is free to download and it can handle virtually any simple scanner to Word transfers.
Step 3
Now that you are prepared to work with the actual document, place it into your scanner. If you have a document feeder your material needs to be face up, and the top of the pages should face the feeder. If not, or if your material is not in a single page form then place it under the lid on the scanner glass, in the upper right-hand corner. Scan and save the file.
Step 4
Open the image. Save the image in the TIFF format by selecting "Save as" from the "File" menu and name it with a "TIFF" format.
Step 5
Navigate to the "Start" menu and select "Programs," "Microsoft Office Tools" and "Microsoft Office Document Imaging."
Step 6
From the "File" menu, select "Open" to open your scanned document that has been saved in the *.TIFF format.
Step 7
From the "Tools" menu, select "Send Text to Word." A prompt will indicate that this process will take time. Click "OK" to confirm. Depending on your computer's speed, the process will take anywhere from a few moments to a minute or two.
Step 8
When the process is done, Microsoft Word will automatically load your document, which you can edit and format as you please.
Tip
Make sure you review and spellcheck your scanned document.
Warning
Intense colors and unusual or erratic font types may cause scanning problems.