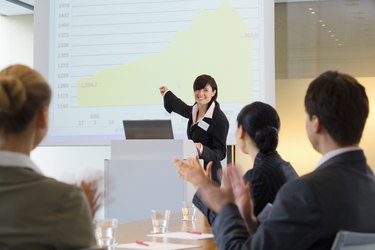 Microsoft Powerpoint is one of the most popular presentation programs available today. Powerpoint 2010, part of the Office 2010 suite, is the most recent version. This software lets users to create business, personal and educational presentations with a variety of uses. Part of the appeal with the presentations is the ability to add animations and effects, creating a more professional finished product. Animations give users the ability to manipulate text. One such animation allows scrolling text, similar to the credits in movies.
Instructions
Step 1
Place the text box where you want the animation to take place. Insert the desired text.
Step 2
Click anywhere inside the text box. Select "Animation" from the top menu. Here, a variety of different text animations will be available.
Step 3
Click on the "more animations" button. This button is an arrow with a line above it; it is beneath the up and down arrows used for navigating through the listed animations.
Step 4
Select "more entrance effects." The scrolling text animation, Credits, is listed under the "Exciting" section. Once selected, options such as when to the start the animation, duration and delay may be changed under the animation section of the menu. The effect may be previewed by clicking "preview."