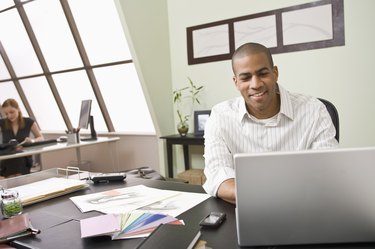 PowerPoint includes several options to help customize your presentation as desired. For instance, the program includes options to add entrance animations to text or objects. You also have the ability get creative with your animation for text, allowing each letter in a paragraph or word to appear as if being typed out on an old fashioned typewriter. You can also add that trademark "tap, tap, tap" sound as each letter appears, further transforming your animation into a typewriter theme.
Step 1
Highlight the text for which you want to add the typewriter animation effect.
Step 2
Click the "Animations" tab.
Step 3
Choose "Appear" from the Animation section in the Ribbon. If you do not see "Appear" click the downward-pointing arrow at the bottom right corner of the Animation area to view all animations.
Step 4
Click the "Animation Pane" button in the "Advanced Animation" section in the Ribbon. The Animation Pane appears on the right.
Step 5
Click the animation's drop-down arrow in the Animation Pane and choose "Effect Options." A dialog box appears.
Step 7
Click the "Sound" drop-down field and select "Typewriter."
Step 8
Click the "Animate Text" drop-down field and choose "By Letter."