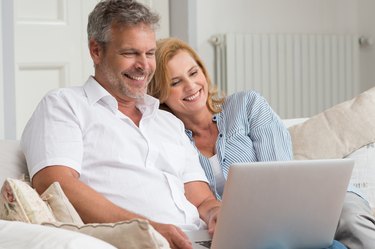 Set a computer alarm to draw your attention to an upcoming event or to wake you from a nap. Microsoft Outlook software has a reminder setting that can act as an alarm clock. It allows you to choose the alarm sounds that will come through the computer speakers.
How to Set a Computer Alarm
Step 1
Check the computer clock to be sure the time and date are correctly set. Click the speaker icon on the taskbar to set the volume to an appropriate level.
Step 2
Open the Microsoft Outlook program. Double click the "Microsoft Outlook" icon on your desktop.
Step 3
Open the appointment setter. Click "File" on the upper-left menu bar. Roll the cursor over "New" and click "Appointments" to open a scheduler page.
Step 4
Set the start time for an appointment 15 minutes after you want the alarm to sound. The drop-down menu for times only offers settings for the top and bottom of each hour. Place the cursor in the time box and click. Type the computer alarm time plus 15 minutes.
Step 5
Set a computer alarm time for the reminder. Click a check mark into the check box to the left of the word "Reminder." Use the drop-down menu to the right of the word to set the reminder to go off 15 minutes before the appointment.
Step 6
Choose an alarm sound. Click the speaker button to the right of the reminder set time. Click the "Browse" button in the dialog box that appears. Click the "Look in" drop-down menu. Click the "Windows" file from the choice list, then double click the "Media" file in the new selections list. Choose alarm sounds from the media file contents. Preview sounds by right clicking and selecting "Play." Highlight the chosen sound and click the "Open" button to embed it into the Outlook reminder. Click the "OK" button in the reminder sound dialog box.
Step 7
Confirm the setting. Click the "Save and close" button under "File" on the menu bar. The chosen sound will play at the determined alarm time.
Tip
Run a test of the Outlook reminder computer alarm. Set an alarm to go off five minutes from now to test the speaker volume.