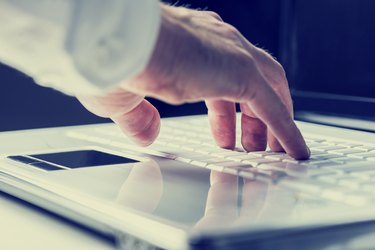 Page turning effects are called "page transitions" in Adobe Acrobat. Acrobat is the only major PDF editor that has the native capability to create page transitions. You can apply multiple types of page transitions to a single document, and choose to transition between pages automatically, manually, or a combination of the two.
Step 1
Click "Tools," then the "Pages" heading from the menu that appears below. Click "Page Thumbnails." From the thumbnail view, select the pages to which you want the page turning effects to apply.
Step 2
Click the "Document Processing" heading on the "Tools" menu. Click "Page Transitions" to bring up the Page Transitions dialog.
Step 3
Select a type of transition from the "Transition" drop-down menu. Some types of transitions move across the screen in a particular direction; if you select one of these, the "Direction" drop-down menu will become available. You can also select from the "Speed" drop-down menu to control how quickly the transition occurs. Click "Auto Flip" to set up your PDF as an automatic presentation with timed page transitions.
Step 4
Repeat Steps 1 through 3 for each different page transition in your document.
Step 5
To edit an existing page transition effects, select the applicable page or pages from the "Page Thumbnails" view, right-click on the selection, and click "Page Transitions."
Step 6
Set the page view to show full pages by clicking "View" on the menu bar, then "Zoom," and then "Zoom to page level."
Step 7
Test your page transitions. Click "View" on the menu bar and select "Full Screen View." Acrobat will run your presentation with the selected page transition effects. Press "Left" and "Right" to manually move through the document. Press "Esc" to exit Full Screen View and return to the document editing window.