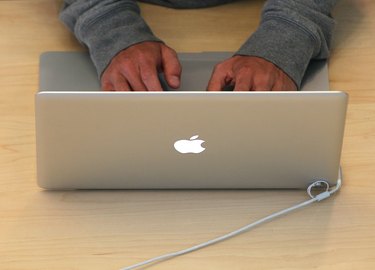 One feature that most Apple computers made since the mid-2000s have in common is a built-in iSight camera, or webcam. Whether you own a Macbook, iMac or one of the other Apple desktop or laptop computers, more than likely you have a small camera lens at the top of the computer screen just waiting to start taking pictures. If you've yet to use your computer's webcam, don't worry, Apple has designed these devices, and the software that stores their footage, to be very user-friendly. All it takes is a few clicks of the mouse and you'll be filming in no time.
Setting Up a Built-in Webcam to Take Photos
Step 1
Turn on your Mac and click on the Photo Booth program icon on the desktop dock (menu bar). If you don't see Photo Booth on the dock, click on the hard drive icon, then click "Applications" and look for it in the list of programs. Wait for the program to open on your desktop. All Macs with built-in webcams come with the Photo Booth program so it shouldn't matter what model Apple computer you are using.
Step 2
Check the indicator light next to the camera at the top of your computer screen. If it is flashing green that means the camera is ready.
Step 3
Choose an effect to add to the picture, if you like, by clicking the "Effects" tab at the right of the screen. You can choose from a variety of colors and effects, such as "Black and White," "Sepia" or even "Comic Book."
Step 4
Situate yourself in front of the camera lens and frame yourself using the camera window. When you are ready to take the picture, find the camera icon in the center of the "Photo Booth" window and click it. You can save the photo in a variety of places by clicking any one of the "Save To" icons next to the camera icon in the Photo Booth program screen.
Setting Up a Built-in Webcam for Video Chat
Step 1
Turn on your computer and click on the "iChat" icon in the dock.
Step 2
Verify that the green indicator light next to the camera lens is flashing.
Step 3
Find the person you wish to chat with in the "Buddy List" window and click the "Video" icon next to their name. You will now be videoconferencing with that person in real time. There is also a built-in microphone in the computer for audio.