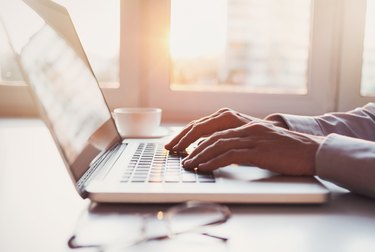 Hyperlink email signatures are used to put links at the end of your emails. In order to set up a hyperlink email signature, you need to make sure your email allows HTML in the signature file, because not all email clients do. Yahoo! Mail, for example, does not allow HTML signatures. Outlook and Hotmail, however, do. Setting up a hyperlink email in Outlook and Hotmail is easy, and the same basic rules apply for any other email service that allows HTML signatures.
Step 1
Go to the web address you want to link to. Copy the web address from the browser. The address, called a URL, starts with "http://..."
Step 2
Open the signature file in your email program. Program settings vary slightly from one email program to the next, but look for menu names like "Options" and "Signature" to open and edit your signature.
Step 3
Choose "Edit in HTML Mode" or similar setting. Outlook has a "File" button where you enter the URL.
Step 4
Insert the HTML code (with URL) into the signature box. Type or copy and paste the following into your signature, replacing "www.insert-your-URL.com" with the web address and "This is the text that will show up in the email" with whatever you want your link to say:
Step 5
Save and check the box to apply your signature. All your emails should now have your hyperlink at the bottom.