Microsoft Word allows you to setup a variety of pre-configured page sizes, which can be selected with a few clicks of your mouse. Selecting various format lets your document conform to whatever size paper on which you are printing. By default, Word uses the 8.5- inch-by-11- inch "letter" size, but you can easily select the 11-inch-by-17-inch "ledger" size.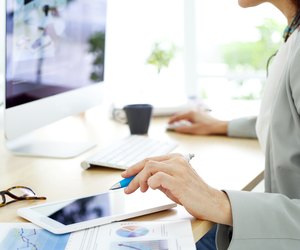 credit: seb_ra/iStock/Getty Images
Step
Open Microsoft Word.
Step
Click the "Page Layout" tab.
Step
Click "Size" in the "Page Setup" group, and select "Ledger 11" x 17." The Word document automatically changes to reflect the new size.
Step
Click the "View" tab, and click "Page Width" in the "Zoom" group to display the entire width of the page. Alternatively, click "One Page" to see the entire page.