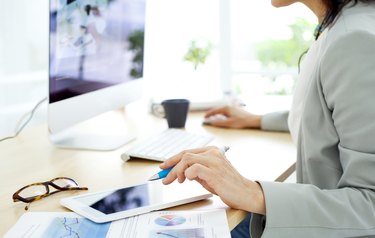 Microsoft Word allows you to setup a variety of pre-configured page sizes, which can be selected with a few clicks of your mouse. Selecting various format lets your document conform to whatever size paper on which you are printing. By default, Word uses the 8.5- inch-by-11- inch "letter" size, but you can easily select the 11-inch-by-17-inch "ledger" size.
Step 2
Click the "Page Layout" tab.
Step 3
Click "Size" in the "Page Setup" group, and select "Ledger 11" x 17." The Word document automatically changes to reflect the new size.
Step 4
Click the "View" tab, and click "Page Width" in the "Zoom" group to display the entire width of the page. Alternatively, click "One Page" to see the entire page.