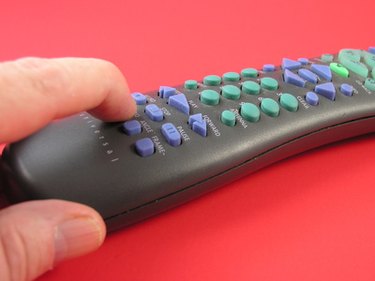 Satellite digital video recording (DVR) equipment is becoming increasingly common in homes that subscribe to satellite broadcasts through the Dish Network. With DVR you can record television broadcasts while you are away from home for playback at a later time. You can also use DVR to skip over commercials during a live broadcast. Fortunately, it is possible to have satellite broadcast and DVR capabilities in two rooms of your home, with only one dual-mode Dish receiver box.
Step 1
Indicate to the authorized Dish Network installation technician which two televisions sets in your home should be connected to the dual-mode Dish receiver. The two televisions can be on different floors of the house but the installation technician must be able to run coaxial cables from the outdoor satellite dish to the dual DVR receiver inside the home, and then run a "branch" coaxial cable from the DVR receiver box to the second television set.
Step 2
Tune the DVR dual receiver to the proper satellite signals using the "Set 1" television set for this process. Your installation technician will usually do this initial tuning for you since proper tuning sometimes involves physically adjusting the satellite dish for maximum signal pick up from orbiting Echostar satellites.
Step 3
Program the remote control for Set 1 so it will interact with the dual DVR receiver and operate controls like volume on your television set. This usually eliminates the need for a separate controller for the television. In most cases, the Dish Network installation technician will also program your remote controller for you.
Step 4
Once TV Set 1 is properly tuned and programmed, set the dual DVR receiver to operate in "Dual Mode," which activates the second "branch" signal feed on the receiver.
Step 5
Repeat the setup and tuning process on the second television set, Set 2. This second television set will also have its own remote controller. The Set 2 controller operates by means of a UHF audio signal. This signal broadcasts through walls, and floors, to the dual DVR receiver box, making it possible to change channels on Set 2 entirely independently from Set 1.
Step 6
Test the DVR controls on Set 1 first. You should be able to turn on the DVR feature from your remote and record and play back programming at will. Open a program and begin recording it on DVR.
Step 7
Test the DVR controls on Set 2 next. Make sure your receiver box is set for "dual mode." You should also be able to record DVR on this second set, at least with the Dual DVR 625 model receiver. You can watch TV on this set while Set 1 is recording a channel on DVR.
Tip
You can also order a four-channel DVR receiver for independent controls to four different televisions in a home. For three-set homes, use a dual DVR receiver for two televisions and then a non-DVR receiver for the third television; many times a simple one-set satellite box is available to current Dish Network subscribers for as little as $5 per month, and it too will operate independently from the other two television sets.
In some cases, the Set 2 remote controller may not be able to be programmed to operate other functions like volume control or picture control on your second set, because it is not an infrared controller. You may need to use a separate remote controller for Set 2 for these functions.