If you have the hotspot feature activated on your cellular plan, you can share your iPhone's cellular Internet signal with other Wi-Fi-enabled devices. To activate the feature, you must either contact your cellular carrier or access your account online. Once the feature is activated, a setting will appear on your phone for turning the personal hotspot feature on. As long as this feature is on, you can access the Internet on your other devices, such as your laptop, tablet or iPod.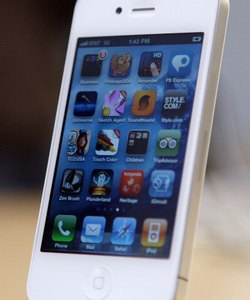 Step
Call your cellular carrier or access your account online to activate the personal hotspot feature. Extra charges may apply.
Step
Tap "Settings" on your iPhone's home screen. Tap "General," "Network," and then "Personal Hotspot."
Step
Slide the toggle switch to "On." Tap the password to change it if you don't like the one supplied.
Step
Open your network preferences on the Wi-Fi-enabled device that you want to connect to your iPhone's Internet. Choose the network with the same name as whatever you named your iPhone when you set it up -- usually "(Your Name)'s iPhone." Enter the appropriate password.