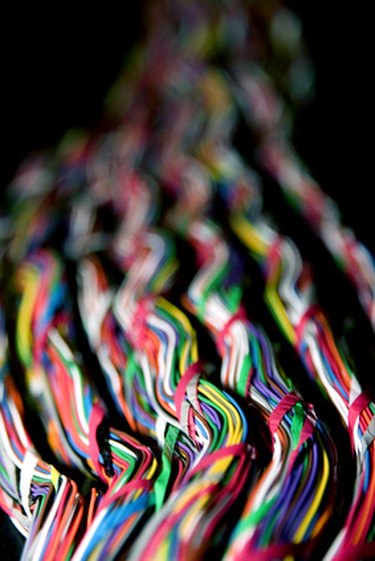 Connecting or splicing two telephone wires should be avoided if at all possible. A splice that is not done right can lead to connectivity problems in your phone line. Running new telephone wire to avoid the splice is the ideal thing to do, but sometimes splicing is the only means of repairing a phone line. Learn how to splice a telephone wire the proper way to get your phone working.
Step 1
Purchase a few pieces of gel-filled telephone wire splice connectors or insulation-displacement connectors (IDC) at your local hardware store. IDCs are designed to connect to the conductor of an insulated phone wire by forcing a blade or blades through the phone wire insulation, thus eliminating the need to strip the wire. IDCs are typically filled with corrosion-deterring gel that will eliminate connectivity problems caused by corroded wires.
Step 2
Clip off the tip of each phone wire you want to splice, using diagonal pliers.
Step 3
Insert the tip of one wire that you are splicing into the little receiving tube on one side of an IDC. Push the wire all the way in until it stops. Repeat on the other wire.
Step 4
Place the colored cap of the IDC flat against the jaws of regular pliers. Squeeze together the handles of the pliers slowly but firmly to crimp the inner connectors onto the wires. Crimping the connectors will also release the corrosion-deterring gel inside the connector.