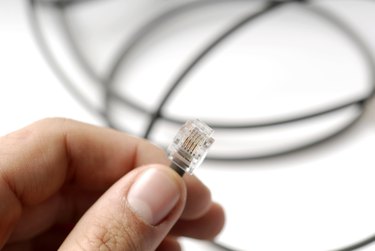 To crimp your own telephone wire, you need specialized equipment: an RJ-11 connector plug and a RJ-11 crimping tool.The crimp bites into the insulation around the tiny colored wires inside the telephone cable to form a secure connection. While some people may want to crimp an RJ-11 plug with a pair of household pliers, the process is difficult and you run the risk of damaging the wires and the plug.
Step 1
Slice the outer jacket of a phone cable lengthwise with a utility knife. Be careful not to cut the inner wires as you make a 2-inch slit in the jacket. Pull the individual phone wires through the slit and cut away the empty two inches of jacket.
Step 2
Hold an RJ-11 plug in one hand with the spring clip on the bottom and the front of the plug facing away from you. The center four slots will be used for most home telephone wires, the one on the left is slot one, while the fourth slot on the right is slot four.
Step 3
Push the proper wire colors into the correct slots. The wire colors will depend on whether you have a newer or older telephone cord. Insert the black wire, or the white wire with orange stripes into hole number one. Put the red wire, or the blue wire with white stripes into hole two. Place the green wire, or the white wire with blue stripes in hole three. Put the yellow wire, or the orange wire with white stripes into hole four. Push each wire into its hole as far as it goes for best connection.
Step 4
Place the RJ-11 plug into the jaws of a crimping tool. Be sure none of the wires from the telephone cord fall out of the plug. Squeeze the handles of the crimper forcefully to make a solid crimp on the connector. Hold the plug in one hand and pull on the attached cord to check for a firm crimp.