Videos captured with a smartphone or webcam often contain footage that you don't need, particularly if you just want to upload a short clip to YouTube, a blog or your favorite social networks. Most media players don't offer file trimming or splitting functions, but free and open source VLC Media Player software includes basic editing tools that you can use to split a file. One of the big benefits of using VLC to split a video is that it records and outputs each clip selection separately while leaving the original master copy intact. Use VLC's advanced recording tool to divide your video file into manageable segments.
Step 1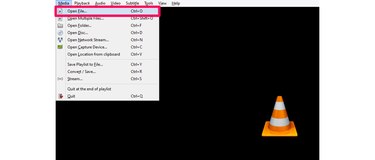 Launch VLC Media Player and open your video file. VLC is compatible with all common video formats, including files with the extensions AVI, ASF, MPEG, MP4, WMV and 3GP.
Step 2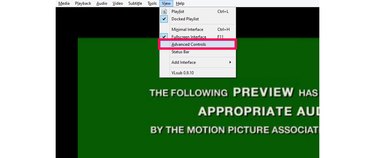 Click the "View" tab in the main menu bar and then select the "Advanced Controls" option in the pull-down menu. The advanced controls include the record function that you'll need to split the video file.
Step 3

Move the slider along the progress bar below the video screen to the start position of the segment you want to split from the rest of the video file. The slider displays a time code so you can see how many seconds have elapsed from the start of the main video file.
Step 4

Click the red "Record" button in the advanced controls toolbar below the video screen.
Step 5

Select the "Play" button and wait for the video to play to the end point of the section you want to split. VLC records in real time so you must wait for the video to play; don't slide it forward along the progress bar.
Step 6

Click the "Record" button again when the video reaches the end point of the section.
Step 7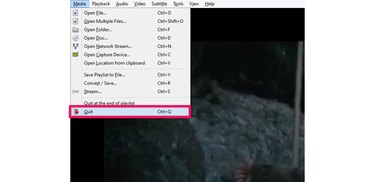 Select the "Media" tab in the main menu bar and then select "Quit" from the pull-down menu to exit the program. You don't need to save the split video selection as a separate file, because VLC automatically creates the output file during the recording process.
Step 8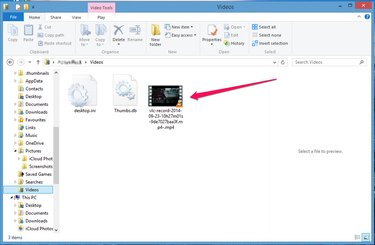 Go to the main video-save location on your computer, which is typically the "Videos" or "My Videos" library folder. You'll see the split video file with the date as part of its file name in the folder. Open the video to check that the clip plays well. Repeat this process for each clip that you want to split from the original video file.