An external hard drive is a type of storage device that plugs into your computer via a USB port. Storage sizes of external hard drives can range from 100 Megabytes to over one Terabyte. An external hard drive's large storage capacity makes it possible to store one or more movies at once. The benefit of this is that you can free up your primary hard drive and conserve DVD-R discs at the same time.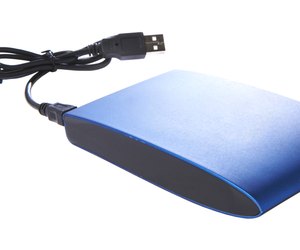 credit: Thomas Northcut/Photodisc/Getty Images
Step
Connect the external hard drive. Plug the power plug into an outlet and insert the USB cable into an available USB port.
Step
Rip the DVDs. If you have DVDs that you want to transfer to an external hard drive, then you need to obtain DVD ripping software. DVD Rip and Ripit4Me are two free programs that can rip DVDs. Go to these websites for download links and user guides.
Step
Locate the movie files. Go to the folder where the movies are located or click the "Start" button and type the name of the movies into the "Search" bar.
Step
Open the external hard drive. Go to "My Computer" and double click on the external hard drive icon.
Step
Transfer the movie files. Copy and paste or drag the movie files into the external hard drive folder.