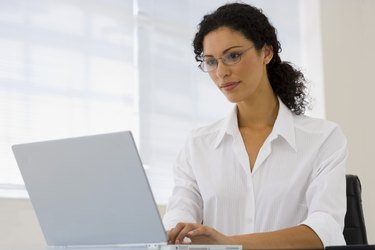 Storing pictures on your computer is fairly simple. Whether you use an image-management program such as Picasa or iPhoto, or simply store them in your Pictures folder, the process is basically the same. It consists of retrieving the pictures you desire from a digital camera, CD, flash drive or other source, then transferring that content into a specific location in your computer.
Transfer and Store on Your Computer
Step 1
To transfer pictures from a digital camera, connect your camera to your computer using the corresponding USB cable. If using an alternate USB device, such as flash drive or USB card reader, connect that into your computer's USB port. A removable disk icon will appear on your desktop.
Step 2
Create a new folder or select an existing folder where you will to store your pictures. For Windows, you will find a ''My Pictures'' folder under ''Documents and Settings.'' For Macs you will find a ''Pictures'' folder under the ''User'' directory.
Step 3
Double-click on the removable-disk or device that appears on your desktop. Explore through the sub-folders and locate your pictures. Select the pictures you will store. Right-click on the selection and click on ''Copy.''
Step 4
Open the folder where you will store the pictures, right-click on the open space, then click on ''Paste.'' The pictures you selected will be copied to that folder. Repeat the same process for all pictures you wish to store in that folder.
Store your pictures in an organized way to find them easily when viewing. Label the folders or albums and create sub-folders if necessary.
Convert Paper Pictures Into Digital Format for Storing
Step 1
Convert old pictures into digital format for storing by scanning them first. Connect a scanner to your computer and allow your system to recognize the device. Choose an image-capture application in your computer to manage the scanned images.
Step 2
Place a picture or pictures onto the scanner and begin scanning. Allow for the process to complete. Confirm the scanning was successful by viewing the received image on your computer's application.
Step 3
Save the image by going to the application's ''File'' menu and clicking on "Save." Choose a name for the picture and a location where you wish to store it. Repeat the process for any other pictures you scan.
Storing Pictures Using Photo Management Applications
Step 1
Store your pictures using photo management applications. Browse through the available options for your operating system. For Windows, the options include Windows Photo Gallery or Picasa. For Mac users, the options include iPhoto, Picasa, Pixelmator and others.
Step 2
Install the application, complete the Installation wizard if applicable and restart if prompted to. Launch the application when completed.
Step 3
Click on the application's ''File'' menu and select ''Import.'' A browsing window opens up. Select the files or folders you wish to add to the application's library for management and viewing. The majority of photo management applications allow you to edit, enhance, delete and store all your photos.