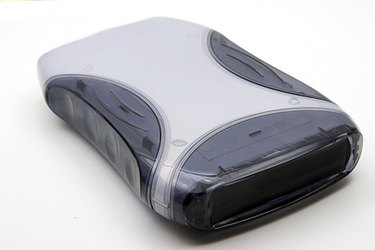 The photo program for the Mac, iPhoto, works like a database for your pictures. If you have a large photo collection, or are slowly using up the space on the hard drive of your computer, you can use an external hard drive with iPhoto to store your digital pictures. Your iPhoto library, where your pictures are stored, can take up a lot of space. As your hard drive approaches full capacity, your system may slow. Moving your iPhoto library to an external hard drive can alleviate this problem. Also, since external hard drives are portable, you can take your pictures with you and share them when you travel.
Step 1
Close the iPhoto program if it is open.
Step 2
Click somewhere on your desktop to open the Finder, and then click on "File," at the top of the screen, followed by "New Finder Window."
Step 3
Click on your home folder in the left sidebar, then "Pictures."
Step 4
Drag the "iPhoto Library" icon to the icon for the external hard drive, which should be visible in the left sidebar. If you don't see it, make sure that it is connected to your computer and that the power is on.
Step 5
Open iPhoto while pressing the "Option" key. A dialogue box will open asking you to choose an iPhoto library. Select the library from the external hard drive and click "Open Selected Library."