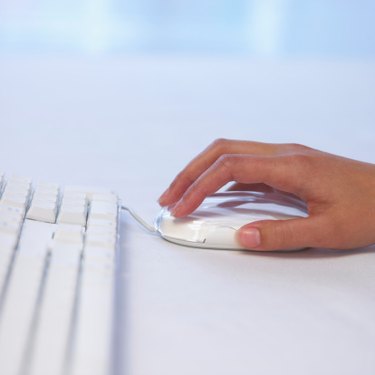 When you're using your iMac, you may find that your green indicator light for your iSight camera is often on, even when it appears that you don't have any applications open. The green light is an indicator that the iSight camera is turned on, so if it's on, you must have either Photo Booth, iMovie or iChat enabled.
Step 1
Close the iChat, iMovie and Photo Booth applications. If you don't see them open, search for them by typing in "Photo Booth" (or the other applications) in the Finder at the top right of your screen, then opening the application.
Step 2
Select "Photo Booth" (or the other application names) from the menu that appears in the top left of your screen, then click "Quit Photo Booth." If you do this for all three applications, you should be able to turn off the iSight light.
Step 3
Open your System Preferences folder by typing "System Preferences" in the Finder menu. Select "System Preferences" from the list of options that appear, then select "Accounts" and "Login Items." View the list of items that are set to open upon Login. If Photo Booth, iMovie or iChat are on the list, deselect them by clicking the arrow next to the item. That may have been causing your iSight light to be on all the time.
Step 4
Click the "lock" item in the bottom left of the Accounts pane to save your changes, enter in your Mac username and password to confirm the changes, and click "OK." Your camera light should not turn on and be left on now, unless you open Photo Booth, iMovie or iChat.