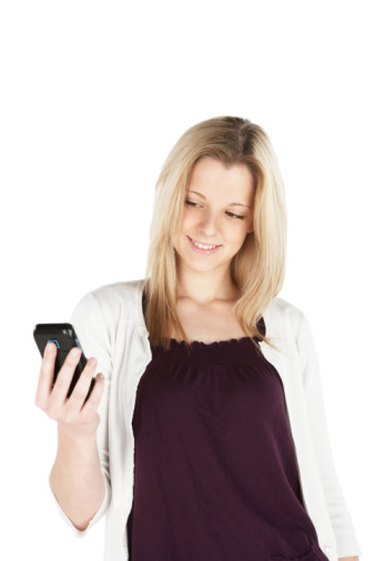 The iPhone has a built-in Calendar application that allows you to set reminders, appointments and alarms at specific times and dates. Although this calendar is backed up when performing an iTunes sync, and can be synchronized with compatible desktop software, Apple does not provide a free, on-device solution for syncing two iPhone calendars with each other. Using a free Google account, you can link both iPhones to Google's calendar to seamlessly and automatically sync the iPhone apps.
Step 1
Tap "Settings" on your first iPhone. Open the "Mail, Contacts, Calendars" page and tap the "Add Account" button.
Step 2
Select "Microsoft Exchange" from the list of available services.
Step 3
Enter your full Google account email address in both the "Username" and "Email" boxes, and your Google password in the "Password" box. Tap the "Next" button to continue.
Step 4
Tap the "Cancel" button when a dialog box stating "Unable to verify certificate" appears. This isn't a fault, but a necessary part of the setup procedure. The iPhone returns to the "Exchange" screen.
Step 5
Type "m.google.com" into the "Server" box that appears at the top of the "Exchange" screen. Tap the "Next" button. Google verifies the account.
Step 6
Slide the "Calendars" switch to "ON" and tap the "Done" button. The iPhone is now synchronized with your Google calendar whenever you launch the app.
Step 7
Repeat the Google calendar setup procedure on the second iPhone, following the exact same steps to sync its calendar with Google. Any changes or additions made to either iPhone's Calendar app are now synced with your Google account and any other iOS devices linked to it.
Tip
You can also access Google Calendar through any Web browser, and any changes or additions you make are synced with the iPhones.