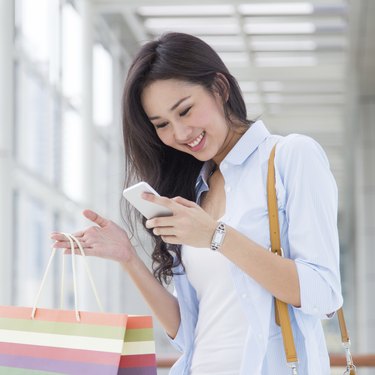 Transferring apps from an old iPhone to a new one, or sharing apps with family members, is quite easy with iOS 8. When you set up a new iPhone, make sure you use the same Apple ID you used on your last iPhone. To share apps with family members, activate the Family Sharing option in Settings. Up to five family members can then be associated with your account so they can access your apps, as well as your other Apple purchases. Keep in mind that sharing apps with those who aren't family members may be considered a violation of Apple's Terms and Conditions.
Setting Up a New IPhone
Anything you download from the App Store, iTunes or iBooks is linked to your Apple ID, not the device you use. This means that if you buy a new iPhone, or even an iPad or iPod Touch, you can download the same apps again, free of charge. When prompted to enter an Apple ID while setting up a new iPhone, enter the same Apple ID you used on your last iPhone. When you go to the App Store, tap "Updates" and then "Purchased" to find your old apps. If you synced the apps on your old iPhone with iTunes, you can also sync your new iPhone to iTunes to transfer those apps. Backups using your Apple ID are also interchangeable, so if you backed up any iOS device with iCloud or iTunes, you can use those backups when setting up your new iPhone.
Resetting an IPhone
If you already created a new Apple ID on a new iPhone, consider resetting and erasing the settings. Back up your files to your computer, since iCloud won't work from one Apple ID to another. Launch "Settings," select "General," tap "Reset" and select " "Erase all Content and Settings." When the iPhone restarts, you are prompted to enter an Apple ID. Use the Apple ID from your last iPhone so you can access your purchased apps as well as your iTunes and iBooks content.
Changing Your App Store Account
Other than resetting an iPhone, another option is to sign out of both iTunes and the App Store, then sign in again with your old iPhone's Apple ID. The problem with this method is that Apple makes you wait 90 days before you can change from one Apple ID to another. Launch "Settings," select "iTunes & App Store," then tap your current Apple ID and select "Sign Out." Enter your old iPhone's Apple ID and, after you verify your credit card information, you should have access to the apps you purchased on your old iPhone.
Sharing Apps With Family
Apple's Family Sharing plan, released with iOS 8, allows an adult to share apps, as well as iTunes and iBooks content, with up to five family members. If you want to share your purchases with a spouse, for example, launch "Settings" on your iPhone, select "iCloud," then "Set Up Family Sharing." When prompted, you can then send an invitation to your spouse. If she has iOS 8, she will receive the invitation through iCloud on her iPhone. After she accepts the invitation, your purchases will be visible in the Purchased screen of the App Store on her iPhone.
Using Family Sharing
If you do use Family Sharing, there are some important points to remember. First, unlike movies and music, not all apps are shareable. For each app, the developer has to enable Family Sharing before you can share it. Secondly, anyone you share your apps with is now linked with the Apple ID of the person who initially sent out the invitations -- perhaps you. Any apps or iTunes content they then purchase will be billed to your credit card. Finally -- on a positive note -- any apps or other Apple content your family members bought before you enabled Family Sharing are also now available on your iPhone.