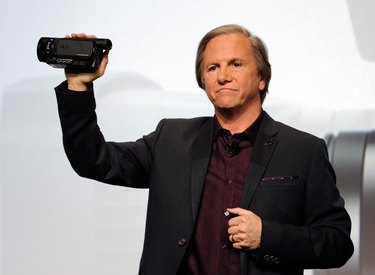 Capturing video with your Sony Handycam is fairly intuitive, but figuring out how to get those videos off to free up space on the device can be more complicated. You can transfer videos from your Sony Handycam by connecting it to your computer and then importing them using Sony's PlayMemories Home software. You can choose to import certain files, new files or all of the files from your camera. No special setup is required. The time it takes to transfer your videos depends on how many videos you're transferring.
Step 1
Install PlayMemories Home on your computer (see Resources).
Step 2
Connect your Sony Handycam camera to your computer using the USB cable that came with the camera.
Step 3
Tap "USB Connect" in the list of options that appear on your camera's monitor. A message saying that your camera is now connected to your computer appears on your camera's monitor.
Step 4
Open the PlayMemories Home application on your computer.
Step 5
Click "File," and then select "Import Media Files."
Step 6
Click "Import New Files" to import new files on the camera since your last import, "Import All Files" to import all files or "Select Files to Import" to choose which files you want to import. If you choose "Select Files to Import," a list of all the files on the camera appears; click to place a check mark in the box in the upper left corner to choose which files to import.
Step 7
Click "Browse" to the right of the Import button, and then choose the folder you want to import your files to.
Step 8
Click "Import" to initiate the import process. A progress bar appears above where the Import button used to be. After the import is complete, you're taken back to the program's home screen, and the folder to which you imported the files opens by default.
Step 9
Choose "End," select "Yes" on the Handycam menu to exit the camera's USB function, and then disconnect the camera from the computer.
Warning
Information in this article applies to PlayMemories Home 3.1.11. Procedures may vary with other versions or products.