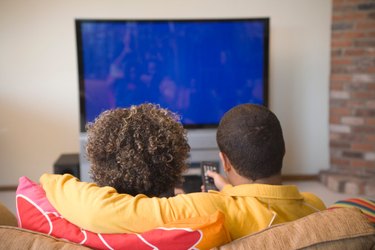 One of Mitsubishi's most popular types of products is its projection televisions. The 65-inch Mitsubishi HD 1080p television is one of the largest rear projection televisions available as of December 2010. The 1080p video format provides 1,080 lines of resolution, which results in the best possible high-definition picture as of 2010. Problems can occur over time due to wear and tear. Many of these problems can be repaired without the need of a technician.
Step 1
Reset the television if it starts to malfunction and not react to commands correctly. Write down the current television settings so you can later reenter them after resetting the television. Press the "Menu" button on the remote then press the "1," "2 "and "3" number keys in a row to access the "Reset" key. Press "Enter" to erase setting and saved information. Re-enter the previous settings into the television.
Step 2
Press the "Menu" button and scroll to the "Lock" menu if the rating restrictions are not working correctly. Select the "Parental" option and verify that the settings are correctly saved in the system. Make the necessary changes and press the "Menu" button to save and exit.
Step 3
Unplug the existing HDMI cable and replace it with a newer model if the HDMI input video is distorted. Some Mitsubishi 65-inch models use different HDMI versions, such as v 1.3 or v 1.1, which may process the video and audio faster than others. Upgrade the cable to newer faster cables to get better video and audio results.
Step 4
Press "Menu" and then click on the picture icon to improve an unbalanced picture quality. Select "Perfect" and press "Enter" to run the PerfectColor auto adjustment. Press the "Cancel" button to reset the colors if the adjustment makes things worse.