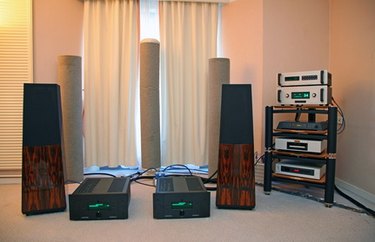 A Pioneer VSX receiver is a funnel, or tuner, to run all your home audio components through. Pioneer is one of the largest manufacturers of consumer electronics in the world and their products are well known and trusted. However, as with most high-end audio systems, glitches can happen. Whether it is a problem with the unit powering off suddenly, or an error code, these are usually relatively easy to remedy. Before taking your receiver in for a service, there are a few simple troubleshooting steps you can run through on your own.
Step 1
Check to see that the A/C power cord is plugged into the electrical outlet and the power on the unit is turned "On" if the receiver will not power up. Test another appliance in the same outlet to check that it is "hot." Check the household fuse box for blown fuses and tripped breakers. Reset breakers and replace blown fuses with others of the exact same rating. If you are using the remote control, check the batteries and replace them, if necessary. As a last measure, remove the power cord from the electrical outlet and then reconnect it to try and reset the system.
Step 2
Hold the "Set Up" button on the unit to turn on the digital safety feature if the Receiver powers off during loud playback. Press the "Standby/On" button to cycle between "Safety 1," "Safety 2" and "Safety Off." If the unit still powers off when set to "Safety 2," lower the volume.
Step 3
Ensure that there are no stray wires that could be touching against the receiver if the unit switches off and the "Phase Control" indicator begins to blink. Move the wires away from the receiver.
Step 4
Check the fan for any obstruction if you receive an error message that reads "Fan Stop" and the receiver switches off. After removing obstacles from the fan, turn on the receiver to check if the error message has disappeared. If it has not and the fan will still not operate, call your local Pioneer Service Center.
Step 5
Reset the unit by turning it off and back on again if the receiver is not responding when you push buttons on the unit or the remote control. Try disconnecting the A/C cable and then plugging it back in again if this does not resolve the problem. Check the batteries in the remote and replace them, if necessary.