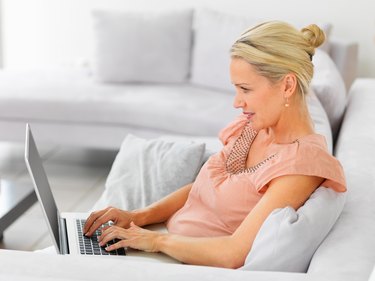 The Verizon Wireless MiFi allows customers to create a mobile broadband connection on their computers in two ways: through a wireless signal available up to ten devices at once or via USB cable to one device. The MiFi works on Verizon's data network and requires digital (3G, 4G or LTE) coverage to work to its full potential. Most MiFi mobile broadband plans have usage allowances. If you are having trouble using your MiFi, the problem may be caused by issues on the account, with the device or with your computer settings.
Troubleshoot Verizon MiFi Account Issues
Step 1
Make sure the correct device MEID is active on your account. The MiFi's MEID is located on the back of the device and usually begins with the letter "A."
Step 2
Check your account for any service blocks. Remove them if necessary.
Step 3
Agree to the terms and conditions of service if you have not by calling 877-807-4646 or logging into your My Verizon account.
Step 4
Settle any past due amount on your account to reinstate service if necessary.
Step 5
Address any additional account issues with Verizon Wireless by calling 800-922-0204.
Troubleshooting MiFi Connection Issues
Step 1
Verify you are located in a digital coverage area using Verizon Wireless's coverage map. If you are out of range, the Verizon MiFi will not connect.
Step 2
Disconnect your computer from any other networks that it may be set to automatically connect to.
Step 3
Make sure security software on your computer is not blocking the MiFi connection.
Step 4
Restart your computer and your MiFi completely. Wait for both to turn back on before plugging the MiFi back in or attempting a wireless connection.
Step 5
Uninstall VZ Access Manager from your computer. Restart your computer once it is removed.
Step 6
Install the latest version of VZ Access Manager from Vzam.net. Make sure you have administrator access on your computer.
Step 7
Open a browser, and navigate to "http://192.168.1.1". Log in by leaving the user name area blank and entering "admin" for the password.
Step 8
Reset any security settings, network preferences, power settings or system information you may have previously changed on the "Diagnostics" screen by pressing "Reset to Factory Defaults."
Step 9
Run VZ Access Manager, and attempt to connect your MiFi. If you are still unable to connect, contact Verizon Wireless technical support by calling 800-922-0204 or visiting VerizonWireless.com.
Troubleshoot MiFi Device Issues
Step 1
Insert the battery in your MiFi, and firmly place the back cover on.
Step 2
Charge the Verizon MiFi fully. The power button will be a solid amber color while it is charging.
Step 3
Push the MiFi's power button for three seconds to turn it on.
Step 4
Check the MiFi's LED indicators. The power button and the status LED should be solid green. If the power button LED light is blinking red, the MiFi needs to be charged. If it is blinking amber and you have it unplugged, an error has occurred.
Step 5
Unplug the MiFi from your computer. Restart your computer.
Step 6
Remove the battery from your MiFi. Wait 10 seconds, and reinsert the battery. Power the MiFi back on.
Step 7
Master reset your MiFi if you are still experiencing connection issues. Complete the master reset by pressing the master reset button on the bottom of the MiFi with a small pointy object, such as an unfolded paper clip, until the MiFi blinks green twice, once long and once short.
Step 8
Contact Verizon Wireless technical support if you are still experiencing device issues with the MiFi.
Tip
Performing a device master reset on the MiFi changes the network name and network key back to the defaults. The default name and key are located on the sticker attached to the back of the MiFi.