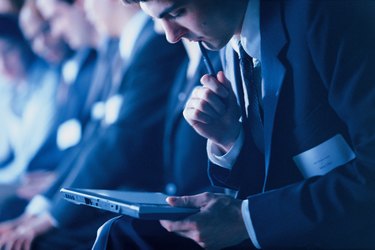 Most wireless routers have the ability to allow connections to be made by wireless devices with the push of a button using the Wi-Fi Protected Setup connection feature. Physical access to the wireless access point or router you're using is necessary to sign on from an iPad or other Wi-Fi-enabled device without a password. The WPS technology requires the device to be at the prompt for the connection key and will authenticate the device when a small button is pushed on the router or access point.
Step 1
Locate the router or access point on the network by looking for the physical device or asking the network administrator where it's located.
Step 2
Tap "Settings" and "Wi-Fi" and then turn on the Wi-Fi feature if it's not already on.
Step 3
Tap the desired wireless signal name to connect to it. If the particular signal isn't displayed because it's a closed network, tap "Other" and enter in the network name and security type. Leave the iPad at the password prompt.
Step 4
Press the WPS button on the wireless router or access point to allow the iPad to communicate without needing the password. The iPad will connect and both the iPad and the router or access point will remember the settings.
Step 5
Log in to the router or access point using the Web browser of a machine that's already connected, if the WPS button isn't functional, and change the "WPS" settings to enable the feature.