Since iTunes relies entirely on audio content, it becomes useless if it loses the ability to play sound. If you have lost sound in your iTunes software, it may indicate a few common problems. Fortunately, you can resolve many of these problems on your own without the need for expensive repair, but you may need to troubleshoot a variety of possible sound problems in order to discover which is causing iTunes to remain muted.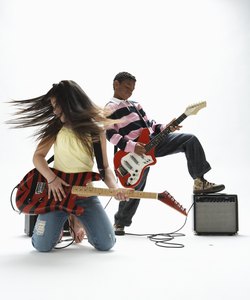 credit: Thomas Northcut/Digital Vision/Getty Images
Step
Check your main computer volume and the volume of your speakers.
Step
Check your iTunes volume. iTunes has a volume slider of its own, completely separate from your main system volume, that appears near the upper-left corner of your iTunes browser, just to the right of the "Play," "Forward" and "Back" buttons. Try sliding the meter to the right to raise the volume.
Step
Update iTunes. Visit the iTunes software page at Apple.com and download the latest version if yours is no longer current.
Step
Update the audio drivers on your PC. While this will not affect Mac users, Windows users may suffer audio problems if iTunes relies on outdated audio drivers. Also try updating any sound card drivers.
Step
Remove any third-party iTunes add-ons. Unauthorized plugins and other add-ons can negatively impact your functionality, so if you have added any of these features, try deleting them from the "iTunes Plug-Ins" folder.
Windows users will find the folder here:
C:\Documents and Settings\username\Application Data\Apple Computer\iTunes\iTunes Plug-ins
Mac users will find it here: Users/username/Library/iTunes/iTunes Plug-ins